Welsh Open snooker tournament to leave Newport Centre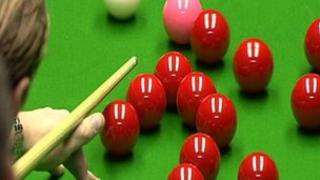 Next month's Welsh Open will be the last to be held in Newport, says Barry Hearn, chairman of World Snooker,
He said he wanted to drive the tournament forward and look at new venues, potentially in Cardiff, to give spectators a better experience.
Mr Hearn said he was not criticising Newport, but it was time to upgrade the tournament into a major event.
The council said it recognised that a larger venue may be needed as the tournament had grown over the years.
Mr Hearn said the contest has been held there for several years, but this would be the last year.
'Better treatment'
"I want to take a fresh look at all of our venues and I want to make sure I am dealing with the right people, and that I can offer customers who buy a ticket a better experience for their hard earned cash," he said.
"And I can give the players better treatment and I can create better events.
"I would love to see it in Cardiff and I have instructed our people to have discussions with various venues in Cardiff.
"I am not criticising Newport. Please don't misunderstand that, we have been there for many years.
"It's time to upgrade the Welsh Open into the major event, I believe, it can be."
'Great champions'
Former World Champion and snooker coach Terry Griffiths told BBC Radio Wales the tournament had enjoyed many good years in Newport.
"It's slightly disappointing as we have got so many good memories from the Newport Centre," he said.
"All of the great champions have been there."
Next month's tournament which begins on 19 February will play host to 128 players from around the world.
It will give up-and-coming players the chance to take on established stars like Ronnie O'Sullivan and defending champion Stephen Maguire, in the opening round.
'Fantastic atmosphere'
Newport council said it looked forward to welcoming an increased number of players to this year's competition.
It said: "We are pleased to hear that World Snooker is looking to develop and grow the Wales Open further and acknowledge that this may require a larger venue.
"Players and spectators have praised the fantastic atmosphere at the Newport Centre.
"We have enjoyed our partnership with the organisation and would be happy to work with them again in the future."