Lord Rennard: Lib Dems 'cowardice' claim by Goldsworthy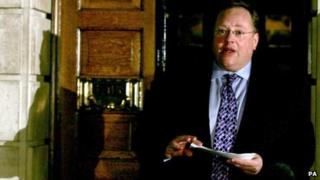 A senior Welsh Lib Dem has accused her party of "opting for cowardice" over the allegations that Lord Rennard sexually harassed women.
Alison Goldsworthy, deputy chair of the party's federal executive, said last year she was one of a number of women who claimed to have been harassed.
The party has said there is not enough evidence for further action against the peer who denies the claims.
The Welsh Lib Dems said they took the allegations extremely seriously.
An independent inquiry into allegations of impropriety made by female activists concluded that the evidence against the peer was "broadly credible".
But the lawyer who led the probe said there was less than a 50% chance that harassment charges could be proved.
The peer has said he wants to "resume his roles".
'Go unpunished'
Following the party's announcement, Ms Goldsworthy, a former Welsh assembly candidate, said: "Faced with the opportunity to take strong action, the Liberal Democrats have once more opted for cowardice.
"They have failed to say Lord Rennard's behaviour is unacceptable, they have failed to discipline him and therefore have failed to give victims the justice they deserve.
"Alistair Webster QC's statement that 'It is my view that Lord Rennard ought to reflect upon the effect that his behaviour has had and the distress which it caused and that an apology would be appropriate, as would a commitment to change his behaviour in future' is only a step in the right direction.
"Since this news became public, people from across the political spectrum have approached me to say they too had been a victim of someone abusing a position of power.
"Today's verdict, and failure to take action, sends the message that this behaviour can go unpunished."
'Behaved inappropriately'
"Now more than ever, the political parties must match their rhetoric with action. Women should not be afraid to speak up, and good men should not be afraid to support them."
"I stand by my previous statement and am taking legal advice."
A Welsh Liberal Democrats spokesperson said: "We take these allegations extremely seriously.
"There is no escaping from the fact that Lord Rennard behaved inappropriately.
"No one, let alone someone in such a senior position, should subject others to offensive or inappropriate behaviour.
"At the very least we would expect Lord Rennard to apologise to the women involved," the spokesperson added.
"Since these allegations first occurred, the Welsh Liberal Democrats have mirrored the federal party's actions by putting a number of procedures in place to make it easier for people to come forward with complaints.
"Following today's findings, it is absolutely right for the party to continue to look at its disciplinary procedures."