Norovirus: Visitors told to stay away from affected wards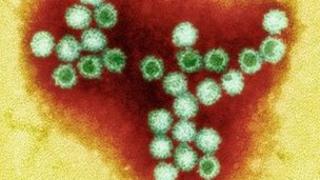 Visitors to infected wards at four south Wales hospitals are still being urged to stay away as health boards try to control the spread of norovirus.
Two wards at Llandough Hospital, Vale of Glamorgan, and two at the University Hospital of Wales in Cardiff, have been closed due to the winter vomiting bug.
Swansea's Morriston Hospital still has two wards closed, whilst one remains closed at Neath Port Talbot Hospital.
Public Health Wales says the bug is highly contagious.
Cardiff and Vale Health Board said although the situation is improving, staff were still dealing with a number of suspected cases of the virus.
All visits to affected wards at Morriston Hospital and Neath Port Talbot Hospital have been temporarily stopped, expect in exceptional circumstances.
Dr Eleri Davies, director for infection prevention and control at Cardiff and Vale University Health Board, thanked the public for their co-operation.
She urged those who have experienced symptoms to stay away from hospitals and health centres for at least 48 hours.
"It is very difficult to stop the spread of norovirus once it is in hospital so we are asking the public to help support us by restricting visiting wards to what is absolutely necessary," she said.
"If you are visiting friends or family in hospital then please heed the advice at the entrances to wards and practice good hand hygiene.
"If you have an outpatient appointment and are showing no signs of the virus, please attend your appointment as planned."
Norovirus is a highly contagious virus which causes nausea, vomiting and diarrhoea.
The symptoms begin about 12 to 48 hours after infection and usually last for between 12 and 60 hours.