NSPCC: Sexual abuse against primary school age children rises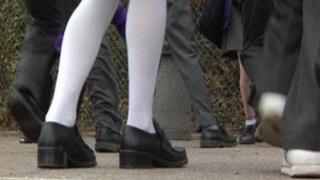 The number of primary school children sexually abused in Wales rose by nearly a quarter last year, the NSPCC said.
The charity said 376 cases were recorded by police in 2012-13, an increase of 75 (nearly 25%) on the previous year, compared to a 16% rise across Wales and England.
The figures were described as "disturbing" particularly because victims were often so young.
The charity said parents should do more to warn children about sexual abuse.
The NSPCC is re-running its Underwear Rule campaign, which aims to provide parents with a guide on how to discuss the issue.
Des Mannion, national head of service for NSPCC Wales, said: "Sexual abuse continues to be a terrible scar on our society which won't heal by itself.
"Our campaign has started to make inroads in giving children the protection they need but there is obviously still a long way to go.
"The police figures are disturbing, particularly as many of the victims are so young.
"This highlights the urgent need to tackle this problem from an early age, and parents and carers can play an important role by ensuring their children are armed with the knowledge to recognise the wrong kind of behaviour and keep themselves safe."
The NSPCC said its figures were obtained from 41 of the 43 police forces across England and Wales under a Freedom of Information request.
In total, there were 1,282 sex crimes recorded against children in Wales, 1,061 of them girls. There were 376 cases recorded against children under 11.
Mr Mannion added: "It's a startling fact that most children are abused by someone they know so it's vital that we communicate to children that it's not right for anyone to touch the places that are private to them, no matter who they are."
Claire Bevan, from Swansea, said she used the NSPCC's guide to talk to her daughters.
She added: "It was really easy for us and the girls picked up it really well.
"They are really clear on what should happen and are telling Nanny and the rest of the family about it on their own."
The charity said 5,547 sex crimes in England and Wales were recorded in total against children under 11 - a 16% rise on the previous year's figure of 4,772.
In total, 22,654 sexual offences against under-18s were reported to police - a slight fall on the previous year - with almost four out of five cases (77%) involving girls.