700 join Plas Madoc human chain protest in Wrexham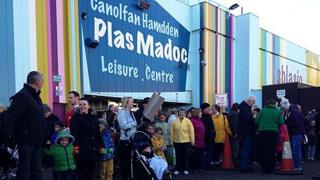 Around 700 campaigners are estimated to have protested against plans to close two leisure centres in Wrexham.
Local people formed a human chain around the Plas Madoc centre.
A consultation is ongoing after a review of 11 sports and leisure facilities as Wrexham council looks to make £13m budget cuts from April.
The campaigners claim replacing Plas Madoc and Waterworld and building a £12m new centre would only save £97,000 a year.
Alison Roberts, of the campaign group, called for an independent assessment.
"These are well-used leisure facilities that our communities want to maintain," she said.
"It's vital that the council takes that on board before making any decision."
Among supporters of the campaign is former Wales footballer Robbie Savage, who played five-a-side at the centre as a boy.
"I have great memories of Plas Madoc and sincerely hope it stays open," he said earlier this week.
The Plas Madoc centre is on one of Wrexham's most deprived estates.
It has a pool, two squash courts, four badminton courts, an outdoor multi-use games area, indoor climbing wall and trampolines as well as a fitness suite, sauna area and cafeteria.
The proposals were due to go before the council's executive board for approval on Tuesday, but will now be considered in February after the consultation was extended until 31 January.