Meetings over threatened libraries in Rhydyfelin and Tregaron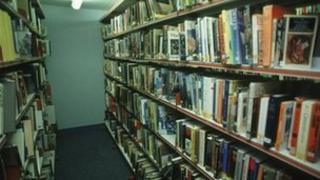 Residents in Rhydyfelin have organised meetings claiming they have not had enough time to object to the planned closure of their local library.
Locals are also worried a proposal to move the library to a community hub may not now go ahead.
Rhondda Cynon Taf council said the consultation had involved all the county's libraries.
Meanwhile a public meeting over the proposed closure of Tregaron library in Ceredigion will be held later.
A public meeting was held in Rhydyfelin near Pontypridd on Saturday after it was decided the town's library, rather than Pontyclun library, should be closed at a meeting of Rhondda Cynon Taf council's cabinet on 8 January.
It is part of the council's plan to reduce the number of libraries in the county from 27 to 12 as part of its aim to bridge a funding gap of £70m over the next four years.
'Concerned'
Locals claim they have only been given until Wednesday to object to the decision.
They have set up a Facebook page to co-ordinate a campaign to save the library.
One of the protesters Christine Thompson said the decision by the cabinet had come "like a bolt from the blue".
"Politicians have promised to come back to us with answers but we are very unhappy that other areas were given a four week consultation period on library closures and we have been given five days."
Ms Thompson added that a plan to incorporate a new library as part of a building project to build 32 apartments for older people and a new community hub could now be threatened.
"We are concerned that once the existing library is shut the developers will lose their obligation to replace it in future and change their design plans," she said.
Residents will hold another public meeting in the town on Tuesday night.
'Broadband'
A RCT council spokesman said: "The council conducted a wide-ranging consultation process over a four-week period on the future of its library services, which was widely publicised .
"This process made clear that this consultation was around the future provision of libraries in Rhondda Cynon Taf and encouraged users to provide views on all facilities and not exclusively those indicated for closure within the original proposal. "
Meanwhile in Ceredigion, locals from the Tregaron area have organised a public meeting in the town's memorial hall at 18:30 GMT on Monday to discuss ways to save library services in the town.
Ceredigion council aims to close Tregaron and New Quay libraries as part of its aim to save £9.6m during the next financial year.
Local county councillor, Catherine Hughes, said: "The meeting will consider ideas about how the service can be saved by being run in a different way in future,
"The use of computers at the library is also very important in this rural area because the facility is based at the local high school.
"The school has a broadband facility which isn't available to many homes in the area."
The meeting will also discuss the future of the town's swimming pool which has been closed for two months because of a leaking roof.