House building rises in Wales, but shortage of workers - survey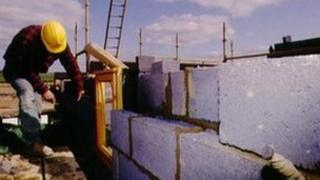 The number of houses being built across Wales is on the rise, but there is a shortage of trained workers and materials, a survey suggests.
Almost half the chartered surveyors asked for the quarterly RICS Construction Market Survey said private home building levels in Wales were continuing on an upward trend.
But a lack of people with job skills is hampering building works.
One builder, Llanmoor Development, said the Help to Buy scheme was a boost.
The report, covering the last three months of December 2013, says that despite recovery in the construction industry, skills shortages are a big concern across the UK.
Sales improving
Between September and December 2013, 36% of firms said this was a problem, while almost 40% said a scarcity of materials was restricting builds.
In Wales, infrastructure construction is showing signs of picking up speed with the pace of growth increasing at its fastest rate in almost seven years, the survey says.
This improving picture can also be seen in the construction and commercial sectors, with more than three quarters of chartered surveyors in Wales saying they expect workloads to increase during 2014.
The report adds that predictions for employment levels and company profits were also positive, suggesting the construction industry could be back on track.
The survey comes days after developer Persimmon announced it was to build 1,000 homes at 14 sites in south Wales.
Neil Brierley, chairman of RICS Wales said: "More homes are being built, investment in infrastructure is continuing and Wales is beginning to benefit from this more positive picture."
"It is of concern that many surveyors are reporting a shortage of skills and materials but this does represent an excellent opportunity for future job opportunities, provided growth can be sustained," he added.
Building more
Matthew Grey, a director at Llanmoor Development in Rhondda Cynon Taf, said confidence in the housing market was improving due to an increase in the number of mortgage approvals and the launch of the Help to Buy scheme in Wales.
The firm's sale figures are increasing and Mr Grey expects them to improve by a further 20% to 30% this year.
But he said finding workers was often hard as many builders left the industry when they could not get work.
A shortage of materials is also slowing work down because many manufacturers closed factories when demand for their products fell.
One of the firm's suppliers has put a limit on the amount of materials the company can buy, he said.
But Mr Grey remains positive that business is on the up.
"We are positive that things are improving a great deal. We are gearing up to build a lot more this year and the signs are already there that customers are coming in ready to purchase," he said.