UK Government should help pay for storm damage, says Lord Wigley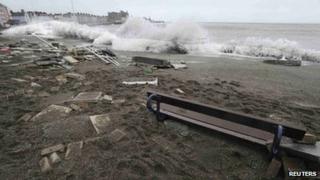 The UK government has been accused of failing to appreciate the seriousness of recent storms in Wales, during a debate in the House of Lords.
The Treasury should step in to help pay for the clear-up along the coastline, according to former Plaid Cymru leader Lord Wigley.
A UK government minister said it was a matter for the Welsh government.
Meanwhile, Welsh Secretary David Jones said Wales would get a share of any extra funding spent in England.
Lord Wigley made his comments during a short urgent statement in the Lords.
"In some areas, such as Aberystwyth and other parts of the Ceredigion coast, and, indeed, the Pembrokeshire coast, the damage was so acute that it may run into many millions of pounds to put right."
Lord Wigley said this was "well beyond" the resources of small local authorities, while the National Assembly for Wales had limited reserves.
Lord Elystan-Morgan, an independent crossbench peer who lives near Aberystwyth, said the UK Government did not seem to realise the seriousness of what had happened.
"Aberystwyth, but (also) many other places on the Welsh coast, have been so badly hit it is far more desperate than the Government seem to appreciate," he said.
"The scale of storm destruction is such that it is impossible for local authorities or, indeed, the Welsh assembly to render proper remedy.
"Although Westminster exercises sovereignty over the land and nation of Wales, with that sovereignty there is also a high and heavy moral responsibility to assist in situations of crisis such as these."
Lord Morris of Aberavon asked: "In the event of the Treasury providing assistance for England, will the Treasury provide an increased amount to meet the Welsh Assembly's need for expenditure in Wales?"
But the English Local Government Minister Baroness Stowell said the issue was devolved and it was up to the Welsh government to respond.
"In responding to the situation and ensuring that those who are affected are properly supported, we would expect that to be the same whoever is affected and wherever in the United Kingdom they may be," she said.
"This is a devolved matter. The Government are at the present time introducing the Bellwin scheme [emergency financial assistance to councils].
"We believe that that is the proper approach and we look to the Welsh assembly to consider what action it should take."
In the House of Commons, Welsh Secretary David Jones said Wales would get a share of any extra funding spent in England.