Foster homes appeal as cases in Wales hit record high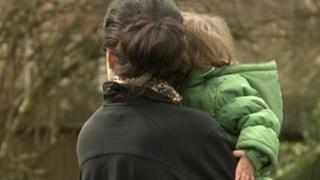 More than 500 new foster families are needed across Wales to give homes to a record number of children, a charity has said.
Fostering Network says 4,400 children are currently in more than 3,500 foster homes, but more families are needed to replace the 12% who leave every year.
Finding homes for disabled children, teenagers and siblings is a priority.
The charity said around 3,000 of the young people in care were aged 10 or older.
Freda Lewis, director of Fostering Network Wales, said: "Foster carers are remarkable people who open their homes to some of society's most vulnerable and disadvantaged children and young people.
"We need to attract a diverse range of foster carers that can meet the needs of children in care and who can offer as much choice as possible so that they can find the right home for each child, first time."
The charity said there was a risk that if more homes were not found, brothers and sisters would be split up or placed with foster parents who did not have the particular skills to deal with their needs.
As a result of this, one in three children in care live in two or more homes every year.