Nida Ul-Naseer: Search continues for missing Newport teen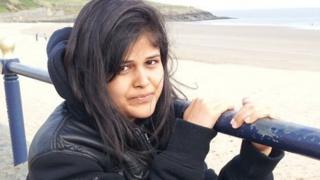 Police are continuing the search for missing Newport student Nida Ul-Naseer who disappeared 12 days ago.
Before she went missing from her home in Pill the sixth-former was upset because her family's asylum-seeker status barred her from university.
The 18-year-old vanished on 28 December after taking out the bins. She was not wearing any shoes and did not have her phone, money or coat with her.
Officers have been searching three sites in the city.
Areas around the Transporter Bridge, the Lysaght Institute, and Pill's Millennium Centre were searched on Tuesday afternoon.
At a press conference at Newport police station earlier in the day, Shamyla Naseer, 23, appealed for her sister to come home.
"We are all worried about you," she said. "We all need you. We can't live without you.
"We're desperately worried about you. Please come back home. We need you at any cost."
Ms Naseer described her sister as a "very religious, very shy and quiet person and very lovely".
Nida did not have a boyfriend and did not go out with any other friends, she said.
She was desperate to go to university and the family had argued about it just before she went missing.
She wanted to go to university to become a marketing or finance manager, her sister said.
"I think that not being able to go to university is the reason for her leaving," she said.
Her sister said as asylum seekers in the UK, they were banned from going to university.
"She was angry about that. She was very sad, she was very angry about her future."
'Model student'
But Ms Naseer replied "no comment" when asked how soon after the university row had Nida gone missing.
The family sought asylum after arriving in the UK from Pakistan five years ago. Their application was turned down and they are currently appealing.
Gary Handly, director at Coleg Gwent's Nash Road campus where Nida has been studying business, said on Monday that staff were "extremely concerned".
"Since starting her studies at Coleg Gwent's City of Newport campus last September, she has been a model student attending all her classes and making excellent progress," he said.
Nida is of Asian-Pakistani appearance and has long dark hair, is slim and 5ft 3in (1.6m) tall. When last seen she was wearing jeans and a black top.
Supt Mark Warrender, of Gwent Police, said investigators had checked her computer, her phone and her bank account and they remained "extremely anxious".
He told reporters "substantial" amounts of CCTV footage were being examined, friends and family had been interviewed and officers had distributed leaflets around her home a week after she went missing.
"Despite all of this, Nida's disappearance remains a mystery," he said.