Wales weather: Students back in halls as storms ease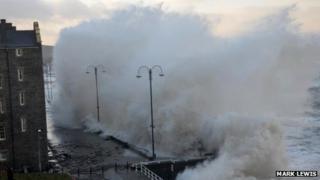 Around 150 students who were forced out of their seafront accommodation in Aberystwyth by strong winds and waves have been allowed to return.
All buildings along the town promenade were evacuated on Monday night as it was hit by an "exceptional" wave swell.
A university spokeswoman said: "The past few days have been difficult for those living in seafront halls."
The coast of Wales has been battered again but forecasters say the worst of the storms is over for now.
The student were moved out of their flats until safety checks were made on the accommodation.
Rebecca Davies, the university's pro vice-chancellor for student and staff services, said: "Given all that has been happening, the students have been very understanding and spirits have been very good."
One flood warning and eight flood alerts remain in place from Natural Resources Wales (NRW). The flood warning is for the lower Dee Valley.
The Met Office said there were no weather warnings for Wales on Tuesday, with lighter showers expected and the wind easing through the rest of the week.
Meanwhile, the clean-up operation continues along Wales' coastline.
In Aberystwyth, surveyors will be inspecting the promenade which suffered severe damage with holes forming in the sea wall as well as the town's shelter collapsing.
Residents evacuated from their homes on Monday night will be assessing any damage to their properties while students who live in seafront accommodation run by the university students must wait until the condition of the building has been assessed before they can return.
The promenade was closed on Monday night for safety reasons but there were no reports of further incidents.
A support centre was set up at Plascrug Leisure Centre for those forced out although only two people used it said centre coordinator Mel Hopkins.
Hotels along the seafront had moved guests to another hotel inland, he said.
All councils along the coast are expected to begin counting the cost caused by a weekend of storms including Pembrokeshire council workers who have started clearing the main road that runs alongside the beach in Newgale, where tonnes of pebbles were washed ashore.
Disruption also remains on transport networks across Wales.
Buses continue to replace Arriva Trains Wales trains from Llandudno Junction to Blaenau Ffestiniog, Machynlleth to Pwllheli and between Llanelli and Carmarthen until further notice.
This is due to a combination of flooding and damage to some lines.
Irish Ferries has cancelled its Swift sailings to and from Dublin but says passengers can be accommodated on other services.
Meanwhile, Ceredigion council's deputy leader Ray Quant said people in Borth opposed to more sea defences are likely to have been persuaded of the need for them by the recent storms.
Mr Quant, who represents the town, said the first phase of the defences, a 300m (1,000ft) man-made shingle bank and reef, has protected homes in the village despite being heavily pounded by the surf.
He said: "The shingle bank has taken on heck of a battering over the last storm events but nevertheless less I would say that shingle bank in place has saved an awful lot of damage to the properties on the seaward side.
"It has moved the shingle bank around so that will need to be re-profiled once the storms abate."
He said he was hoping for an announcement soon on funding for the second phase of the village's sea defences.
He added: "There is a bit of controversy in the community about whether or not they were needed but I'm sure after recent events people will realise there is a need for them."