Legal aid cuts 'turn back justice' claims Welsh barrister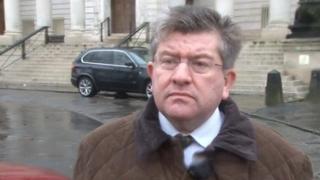 Proposed legal aid cuts would "turn the clock back hundreds of years in terms of criminal justice", claims a barrister leading protests in Cardiff.
Cardiff-based Andrew Taylor was among a group of criminal case lawyers who did not attend courts on Monday over the planned £220m cuts.
It would "bring the system of justice as we know (it), to an end", he said.
The Ministry of Justice said efficiencies were necessary to ensure legal aid remained "sustainable"
Government proposals include cutting fees in complex, high-cost cases by 30%, and in other crown court work by up to 18%.
'Dumb justice down'
The half-day mass of action started at 10:00 GMT with protests in London, Manchester, Liverpool, Leeds, Birmingham, Newcastle, Winchester, Bristol, as well as Cardiff, Swansea, Caernarfon and Mold.
The Criminal Bar Association said the action would not jeopardise trials, but warned that if the pay dispute was not resolved, trials due to start after April - including those for murder and rape - could be put at risk.
Mr Taylor said the cuts would prevent people having proper representation in court.
He said: "What David Cameron and this government are doing is literally to try and turn the clock back hundreds of years in terms of criminal justice and the rights of ordinary men and women.
"If you dumb justice down to have people doing jobs that they are not trained to do, and should not be doing, then at the end of the day the quality of justice will be diminished and that's not good for Britain.
"Once you start meddling and messing with the system as Cameron and this government are doing, it will lead to more and more miscarriages of justice and yet even more expenditure to the exchequer, " Mr Taylor added.
"These cuts are nothing at all to do with saving money. In the long term they will cost the taxpayer money."
Outside Mold Crown Court, barrister Andrew Green read a statement in which he described the protest as "a momentous day."
He said: "We wish to bring to public attention that which is being done in their name. We, the bar of England and Wales, will not sit idly by and watch its destruction.
"We will do what we have been trained to do: fight for justice; our fight now is to save justice for this generation and generations to follow."
A Ministry of Justice spokeswoman said: "At around £2bn a year we have one of the most expensive legal aid systems in the world, and it would remain very generous even after reform.
"Latest figures show more than 1,200 barristers judged to be working full time on taxpayer-funded criminal work received £100,000 each in fee income last year, with six barristers receiving more than £500,000 each.
'Efficiencies'
"We entirely agree lawyers should be paid fairly for their work, and believe our proposals do just that.
"We also agree legal aid is a vital part of our justice system; that's why we have to find efficiencies to ensure it remains sustainable and available to those most in need of a lawyer."
The spokeswoman added: "Agencies involved in the criminal justice system will take steps to minimise any upset court disruption could cause for victims and witnesses involved in trials."