Wales storm: Councils counting cost and ready for high tide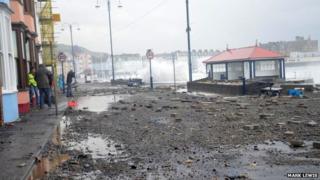 Councils along the coast of Wales are assessing the damage caused by the storm surge and warning there might be more to come in Monday's high tide.
Four "danger points" are being monitored at Newgale, Dale, Amroth and Wiseman's bridge in Pembrokeshire.
Workers are also monitoring coastal areas in Ceredigion and Gwynedd.
Minister Alun Davies said he had been "shocked to the core" at damage in Aberystwyth and has ordered a review of coastal defences.
On a visit to Aberystwyth on Sunday, to see for himself the damage caused to the promenade, Mr Davies said the Welsh government wanted to know what impact Friday's storm surge had on coastal communities.
"Our coastal flood defences have been severely tested by these storms and it is vital to look at how our sea defences have managed to stand up to the power of the recent storms," he said.
"I have asked Natural Resources Wales to carry out a swift review with the immediate priority being to identify and assess any damage caused so that we can prioritise repair work and see what lessons we can learn to be well prepared for future severe weather."
Ceredigion council's deputy leader, Ray Quant, said he was grateful the minister had seen the destruction for himself.
"It's absolutely shocking what has happened to us in Aberystwyth and I'm sure the locals here haven't seen anything like if for many, many years," he said.
"What we'll be looking for is support from the Welsh government for the actual restoration of the promenade, but also for improvements because we don't want it to happen again."
He said that apart from Aberystwyth there was damage at Aberaeron, New Quay, Llangrannog, Cardigan, Borth and Clarach.
"From a Ceredigion workforce point-of-view people have worked hundreds of hours on restoration, prevention and rescue, so there's the added cost of that too."
Richard Griffiths, owner of the Richmond Hotel right on the sea front in Aberystwyth, said he had been warned that another high tide at 11:30 GMT on Monday morning was a "big one".
"We've done all we can to prepare. We've put the shutters up and barricaded the door with sandbags. Now we have to sit and wait.
"The waiting is difficult but we have to see what happens," he said.
"I've been running the hotel for 20 years, but it's a family business which has been here for 40 years, and we've had bad weather before, but we haven't been directly hit like this.
"It's always been further along, not right in the middle of the promenade."
Student Tom Rule had filmed the giant waves pounding the seafront on Friday after the hallway of his flat there was flooded.
He said he, and around 100 others, were evacuated to the main university campus on Friday night as a precaution but were now back in their accommodation looking out over the promenade, although the risk has still not passed completely.
"We're still on evacuation warning for the next couple of days due to the high tides," he said.
Aberystwyth University has already advised students to delay their return after the Christmas break for a week, and exam and work hand-in dates have also been put back.
"Most of the students haven't rolled in yet though, so they'll just use the extra time for more revision," Mr Rule added.
Council workers are on stand-by around the coast in case of any emergencies on Monday morning.
In Gwynedd, Councillor Ioan Thomas, council cabinet member responsible for emergency planning, said that since Friday the authority's staff had responded to an "unprecedented number" of flooding problems.
These have affected communities along the entire length of the county's 180 mile coastline - from the Tywyn area in the south to Hirael Bay in Bangor.
"Whilst the general situation is now improving, we are continuing to monitor the situation closely and remain on stand-by to respond to any new emergencies that may arise," he said.
"This clear-up operation, along with the work of assessing damage to infrastructure, will continue over the coming weeks," he said.
In Barmouth, Gwynedd, the storm surge damaged some of the seafront and affected the Cambrian Coast railway line.
Teresa Challoner, who runs the Morwendon House guest house in Barmouth, said her garden slopes down towards the railway line and engineers have been walking along to the track to inspect the damage.
"Big rocks put in place to protect the railway were moved by the power of the sea, it had such force," she said.
Elsewhere in the town she added it was business as usual.
"Some people had been tweeting that we'd been washed away, but we weren't. There were lots of people out on Saturday with shops and cafe's open," she added.
In Pembrokeshire communities along the coast are braced as another high tide between 09:30 and 10:00 GMT on Monday.
A spokesman said council workers were monitoring "danger points" at Newgale, Dale, Amroth, and Wisemans Bridge were the sea defences were breached on Friday.
"We have no plans for an evacuation, but we want people to be aware that there is another high tide.
"Teams have been working all weekend and the seafront at Amroth is still closed after part of the road was washed away.
"In Newgale the road is also closed as there is a lot of debris and there's no point in us moving it just for it to be carried right back."
The spokesman also warned people to be aware of the potential dangers of sight-seeing.
"We ask that people are responsible whilst looking at the high tide.
"It's too early to count the cost of what has happened - we'll have to wait until later in the week for that," he added.
There is full coverage of disruption from the stormy weather and flooding on BBC Wales online, via Twitter @BBCWalesNews, on Wales Today bulletins on BBC One Wales and on BBC Radio Wales on Monday.