Aberystwyth and Borth evacuations over high tides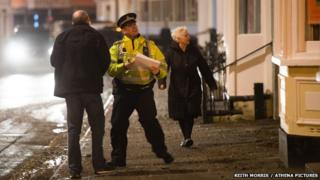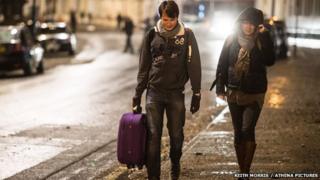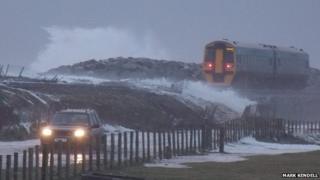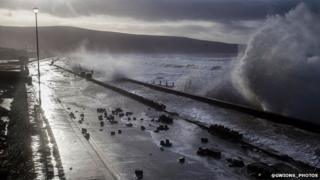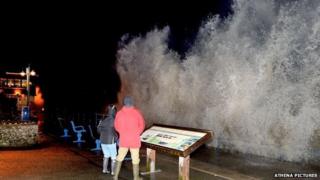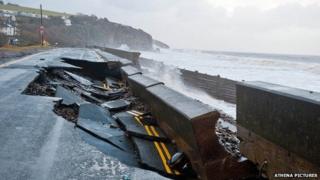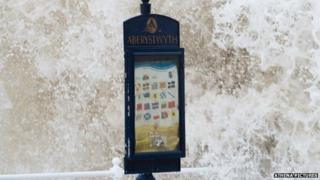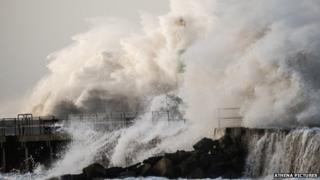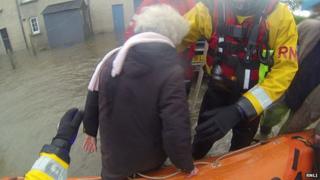 Homes on the coast around Aberystwyth have been evacuated ahead of Friday night's high tide.
Around 100 people were taking shelter at rest centres with waves of up to 6ft (1.8m) peaking in the town and at Borth, eight miles (13km) away.
Severe flood warnings, where there is a danger to life, were in place while an earlier one for the Usk estuary at Newport was stood down.
Storm surges brought floods and disruption around the coast earlier.
Police patrolled the promenade in Aberystwyth and advised people walking there to stay away, although a crowd gathered to watch the waves at high tide at 21:20 GMT.
Waves were already breaching the sea wall two hours before.
Around 100 people were at the rest centres at a school in Aberystwyth and a community centre in Borth, with others staying with friends and relatives.
Earlier the council said: "We strongly advise residents on Aberystwyth seafront and town centre to vacate all properties."
A similar warning was issued for Borth.
Two severe flood warnings were still in place at 21:45 GMT. There are also dozens of flood warnings.
Earlier, Andy Wall, flood forecasting manager for Natural Resources Wales (NRW) told BBC Radio Wales the worst of the weather was yet to come after flood damage in the morning.
"We have seen very stormy weather, probably some of the highest sea levels recorded on south and west Wales coasts for over 15 years, so particularly bad in that area," he said.
"We have seen properties flooded but unfortunately the worst is not yet over."
Mr Wall said they were also keeping a close eye on the Newport area, which has the second highest tidal range in the world.
Several hotels on Aberystwyth seafront were flooded during the morning's high tide and some were evacuated on Friday evening along with businesses on the pier following advice by police and council officials.
Richard Griffiths from The Richmond hotel said of the morning's flooding: "Neighbours of mine were standing behind a window which just caved in.
"No one was injured but it just went straight through the building and out into the garden into the back.
"We are expecting it again tonight but this time round there is wind."
The day's first tide - combined with high winds and rain - left a trail of chaos with emergency services carrying out rescues at Cardigan and Gwynedd.
In communities along the whole of Wales' coastline dozens of roads were closed and the rail network was also badly affected.
Meanwhile, the attic of a house at Penpedairheol in Caerphilly county was set on fire after being struck by lightning just after 16:20 GMT.
Three fire crews brought the fire under control after three hours.
A man was arrested after making a malicious call, falsely claiming a person had fallen into a river at Tondu near Bridgend. Ten fire and rescue crews had been deployed.
Mid and West Wales Fire and Rescue Service were busy with flooding incidents in Fishguard, Cardigan, Aberaeron and Aberystwyth.
In Flintshire, rest centres were set up for people who were advised to leave their homes at Greenfield and Talacre in anticipation of more floods that hit neighbouring Rhyl in early December.
However, the Flintshire coast escaped serious incidents in the lunchtime high tide.
But Chief Supt Jeremy Vaughan of North Wales Police who led the response, said: "On this occasion whilst it was unfortunate that some properties were flooded, the impact was less severe than anticipated, this could have been very much worse."
In Barmouth a man was rescued by boat from a flooded cafe on the beach.
A flood rescue team also helped four people at a farm in Llanbedr near Barmouth.
The RNLI said two elderly men and a woman, along with a younger woman, were rescued from water which was waist deep.
Mid and West Wales Fire and Rescue Service said properties had been flooded in St Mary Street in Cardigan leaving some people trapped.
Among those rescued was a pregnant woman and fire crews from Crymych, Newcastle Emlyn and Cardigan were using wading equipment and boats to reach homes.
Earlier, as the high tide hit south Wales, police were called to move people from Burry Port pier in Carmarthenshire.
Carmarthenshire council said some people were ignoring the dangers posed by the high winds and tides and the police had been called.
About 70 holiday chalets have been flooded at Carmarthen Bay caravan park in Kidwelly.
In Pendine the high tide was reported to have smashed through flood boards put up to plug gaps in the sea wall, and the Beach Hotel has been flooded.
The high tide - thought to be the worst in 17 years - started to hit the coast of Pembrokeshire after 07:00 GMT and reached north Wales after midday.
Pembrokeshire council advised householders and business owners whose properties are at risk of flooding to prepare for continued high tides over the weekend by stocking up on sandbags and tarpaulins at local builders' merchants.
Meteorological officer Charlie Powell told Radio Wales: "We've already seen gusts of up to 70mph across some exposed western parts of Wales and it's the wind that's going to be the crux of this next batch of severe weather.
"We can expect to see tides peaking as we go from south to north and as these strong winds coincide with those high tides and push that water it gives really high waves and that just increases the risk of coastal flooding.
"It's relatively rare to see all these things combining at exactly the same time and it's exactly why these risks are so high this time."
He added that the hills and mountains of Wales will be worst hit by the winds.
First Minister Carwyn Jones tweeted: "My thoughts are with those affected by the bad weather. Please follow advice of the emergency services."