Storm surge brings flooding chaos moving up Wales' coast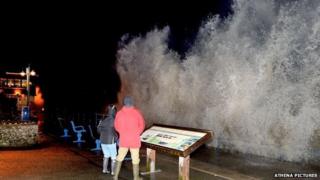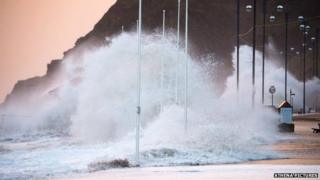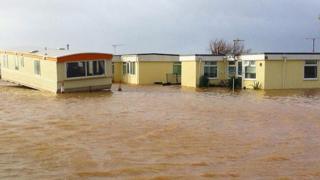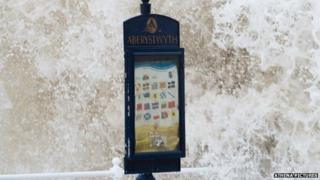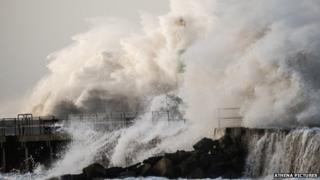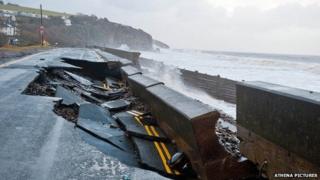 A storm surge has reached north Wales after leaving a trail of chaos along the Welsh coastline.
About 30 properties were flooded in Cardigan where a pregnant woman was rescued and some people trapped in their homes.
Dozens of roads are closed and the rail network is badly affected around Wales.
In Gwynedd a lifeboat rescued five people from flooded caravans in Pwllheli.
A flood rescue team also helped four people at a farm in Llanbedr near Barmouth.
The RNLI said two elderly men and a woman, along with a younger woman, were rescued from water which was waist deep.
In Aberystwyth student Tom Rule said he woke up to see the promenade "destroyed and huge waves crashing onto it".
"All the paving stones were up, a car had been washed away and huge waves were crashing onto the road," he added.
Mid and West Wales Fire and Rescue Service were busy with flooding incidents in Fishguard, Cardigan, Aberaeron and Aberystwyth.
The exceptional high tide was due to reach Anglesey and Flintshire by lunchtime.
In Flintshire rest centres were set up for people who were advised to leave their homes at Greenfield and Talacre.
The council has already closed Station Road in Talacre at the request of police.
In communities along the whole of Wales' coastline dozens of roads are closed and the rail network is also badly affected.
Arriva Trains is advising passengers not to travel where possible on main line services and Virgin Trains suspending services from 11:30GMT.
Four severe flood warnings remain in place in Flintshire, Barmouth in Gwynedd, and in the Usk Estuary at Newport. There are also 36 flood warnings.
"Severe flood warnings are only made when it is considered that there is a severe risk to life and property and the fact that this has been issued needs to be taken seriously," said Ch Supt Jeremy Vaughan of North Wales Police, who is leading the co-ordinated response at Greenfield and Point of Ayr in Flintshire.
"People living in the affected areas need to heed the warning and make arrangements now to secure their own safety," he said.
In Barmouth a man was rescued by boat from a flooded cafe on the beach.
Flood rescue team volunteers from across north Wales are now assembling at St Asaph, Denbighshire, to deploy with another flood boat if it is needed.
Mid and West Wales Fire and Rescue Service said properties had been flooded in St Mary Street in Cardigan leaving some people trapped.
Among those rescued was a pregnant woman and fire crews from Crymych, Newcastle Emlyn and Cardigan were using wading equipment and boats to reach homes.
Earlier, as the high tide hit south Wales, police were called to move people from Burry Port pier in Carmarthenshire.
Ron Cant from Carmarthenshire council said some people were ignoring the dangers posed by the high winds and tides and the police had been called.
"Our rangers have had problems at Burry Port particularly where people have been driving down and lots going on to the pier.
"We've had to call for police assistance. They have started to move them out," said Mr Cant.
The council had crews working through the night helping out at flooding incidents. More staff are now being called in from annual leave to help if needed as the bad weather is forecast for the weekend.
Up to 50 caravans have been flooded at Carmarthen Bay caravan park in Kidwelly.
In Pendine the high tide was reported to have smashed through flood boards put up to plug gaps in the sea wall, and the Beach Hotel has been flooded.
The high tide - thought to be the worst in 17 years - started to hit the coast of Pembrokeshire after 07:00 GMT.
Pembrokeshire council has already advised householders and business owners whose properties are at risk of flooding to prepare for continued high tides over the weekend by stocking up on sandbags and tarpaulins at local builders' merchants.
On Friday morning incidents caused by the flooding included:
Firefighters sent to Llantwit Major in the Vale of Glamorgan to help a woman trapped by flooding in a caravan near the beach
A4042 closed near Abergavenny in Monmouthshire after River Usk burst its banks
A466 blocked due to landslip near Trelleck Road at Tintern Abbey, Monmouthshire
A4066 closed at Laugharne in Carmarthenshire after river Taf burst its banks
People trapped in their homes by floodwater in Cardigan, Ceredigion
Main road in Pendine closed due to flooding
Around 100 homes without electricity in Carmarthenshire after lightning strikes
Lower St Clears Road, Carmarthenshire, impassable due to flooding
Aberystwyth promenade closed
Road closed between Borth, Ceredigion and Treddol due to flooding
A487 closed between Newgale and Solva, Pembrokeshire after a pebble protection wall was breached
A487 closed at lower town Fishguard due to flooding
Amroth - road closed after sea wall breached and road was partially washed away
Dyfed-Powys Police said the road is impassable in the Rickeston Hill area of Milford Haven
A496 closed between Water Street in Barmouth and A470 Dolgellau
Barmouth, Gwynedd - road closed by Last Inn pub
A477 Cleddau Bridge closed and warnings of strong gusts on the A48 Severn Bridge, M4 Briton Ferry Bridge and A55 Britannia Bridge
A4075 Carew Bridge impassable
Arriva Trains Wales - passengers advised not to travel. Details on Arriva Trains Wales website
Virgin Trains suspended in north Wales from 11:30 GMT
Ferries - Stena Line sailings between Fishguard and Rosslare cancelled
Some homes in Newport were evacuated overnight as a precaution.
Homes on the Lighthouse Park Estate in Wentlooge Levels, Newport and in the area north of Crindau, Pill were affected.
Joanne Sherwood, from Natural Resources Wales (NRW), said: "This is the some of the highest tides since 1997, and on top of that it's very windy so that's causing about a one metre surge on top of the tide.
"We think this is serious and we've had our teams out and about checking defences making sure things are in good working order," she told BBC Radio Wales.
"People living in the affected areas need to heed the warning and make arrangements now to secure their own safety."
The Met Office has issued a yellow warning for wind which remains in force until midnight on Friday.
Meteorological officer Charlie Powell told Radio Wales: "We've already seen gusts of up to 70mph across some exposed western parts of Wales and it's the wind that's going to be the crux of this next batch of severe weather.
"We can expect to see tides peaking as we go from south to north and as these strong winds coincide with those high tides and push that water it gives really high waves and that just increases the risk of coastal flooding.
"It's relatively rare to see all these things combining at exactly the same time and it's exactly why these risks are so high this time."
He added that the hills and mountains of Wales will be worst hit by the winds.