Tidal storm surge warning and gales for Wales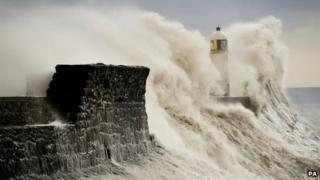 Forecasters are warning that storm force winds and some of the highest tides in decades could bring further flooding misery.
Several severe flood warnings were issued, including the Gwynedd resort of Barmouth - with police urging residents to take action to protect themselves.
A rest centre is being opened for at-risk residents in the town.
Homes on an estate at St Brides Wentlooge, Newport, are also being evacuated as a precaution.
Scores of flood warnings and flood alerts were in place, covering large parts of the coast.
Earlier on Thursday, the River Towy burst its banks in Carmarthen.
It led to roads in the town being flooded - though properties escaped the floodwater.
Natural Resources Wales (NRW) said on Thursday evening that water levels had started to drop on the Towy - but would rise again with the tides. A flood warning remains in force for the area.
Carmarthenshire council has been holding an emergency planning meeting ahead of the high tides on Friday and Saturday, with the local authority stressing that it had "invested millions" in strengthening flood defences in the area over the last few years.
"This type of weather over the next few days will probably test other areas and challenge us," said council spokesperson Ron Cant.
"We can only react to what happens. You can't protect everything. We know the weak spots and they have been addressed over the last few years."
The Met Office said winds could hit 80mph on the Welsh coast on Friday, reaching storm or even violent storm force at points.
It has issued a yellow weather warning for the entire coastline of Wales, valid from midnight on Friday for 24 hours.
NRW is warning people to stay away from seafronts during the high tides on Friday.
"This is expected to be the highest tide to hit the whole Welsh coast since 1997," warned the NRW in a statement.
"While the threat extends along the entire Welsh coastline, Natural Resources Wales is particularly keeping a close eye on Newport in south Wales - specifically the Crindau area; the west coast - specifically Barmouth, Borth, Carmarthen Bay and Haverfordwest; and the north Wales coast from Kinmel Bay to the Dee estuary."
The high tide is expected at Milford Haven at about 07:20 GMT on Friday, reaching Newport by 08:15, Barmouth in Gwynedd at 09:20 and Flintshire by midday.
High alert
The highest alert so far is for Barmouth, for its promenade, the harbour, and properties around Heol Llywelyn and Heol y Llan.
NRW said waves are expected to overtop the sea front, driven by gale force winds.
The severe flood warning is in place from 07:30 and 11:30 on Friday.
North Wales Police urged residents in the town to act ahead of the storm surge.
"Severe flood warnings are only made when it is considered that there is a severe risk to life and property," said Chf Supt Jeremy Vaughan.
"The fact that this has been issued needs to be taken seriously. People living in the affected areas need to heed the warning and make arrangements now to secure their own safety."
Gwynedd council is opening a rest centre for any residents who need assistance.
The police also asked anyone in the area leaving their properties to stay with relatives or friends to let the force know, by contacting the non-emergency 101 police number.
NRW said it was also opening incident rooms in parts of Wales likely to be affected by the storm and tidal surges.
"We have already been speaking with our partners from the emergency services and all the local authorities which might be affected so they can put their plans into action," said a spokesperson.
"We are also warning people to avoid visiting the seafront due to the risk of being swept away by large waves or hit by wave and wind-blown debris.
"Flood water can also be extremely dangerous, and people should not attempt to walk or drive through it unless instructed by the emergency services."