Firefighters to strike for ninth time since September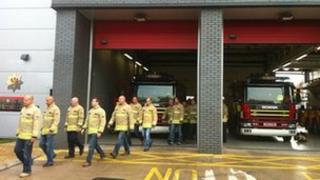 Firefighters in Wales staged a fresh strike on Friday in their long-running dispute with the UK government over pensions.
Fire Brigades' Union (FBU) members walked out for two hours at 06:30 GMT - the ninth stoppage since September.
Strikes took place across England and Wales.
The UK government plans to raise firefighters' retirement age from 55 to 60 and increase their pension contributions.
Matt Wrack, general secretary of the FBU, said: "Firefighters do not want to place the public at risk, and support on the picket lines suggests that the public understands that we cannot stand by and let this pension theft continue.
"It's time the government came back with a realistic offer instead of the unworkable proposals they continue to peddle."
The union said most firefighters who take home around £1,650 a month already paid £320 or more into their pensions, and from April 2014 this would rise for the third year in a row to over £340.
The UK government maintains firefighters will continue to receive a good pension, and has criticised the industrial action.
UK Fire Minister Brandon Lewis has said the decision to strike over the festive period was "completely cynical".