Sea warning after Aberystwyth New Year swimmer arrest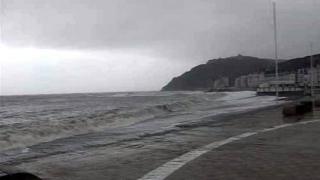 Coastguards have warned people against going for a New Year's Day dip in stormy seas after a man trying to swim in 15ft (4.5m) waves sparked a rescue.
Aberystwyth RNLI inshore lifeboat was about to launch at around 07:30 GMT on Wednesday when the man struggled back ashore on the town's South Beach.
The would-be swimmer, who was wearing a wetsuit, was arrested by police.
Milford Haven coastguard said: "It may just have been in high spirits but it was not in good judgment."
The coastguard spokesman said the alert was sparked by the swimmer's friend who became concerned minutes after the man went into the water.
The RNLI crew and Aberystwyth's coastguard were mobilised and the police and ambulance services called.
Police were first on the scene and held the man after he managed to make his own way out of the sea.
The lifeboat crew was stood down just as they were about to set off and the coastguard team was also stood down.
'Huge waves'
The coastguard spokesman said: "He came out fit and well but from our point of view it's not advisable in this weather.
"If he had looked at the news, he would have seen they've already lost someone in England this morning."
Dyfed-Powys Police Insp Julian Bowen said a local man remained in custody and was helping police with their inquiries.
He said: "We had reports of a man in difficulties in the sea. The conditions were there was a significant swell and huge waves.
"The person then did leave the sea of his own accord. He was arrested.
"This behaviour is extremely irresponsible. It puts emergency service personnel in danger as well."