New Year's Eve: Firefighters strike again over pensions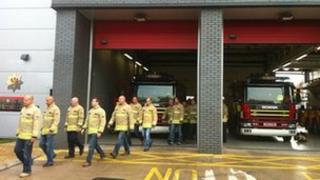 Firefighters across Wales staged their latest strike over pension changes.
Crews walked out between 18:30 GMT on New Year's Eve and 00:30 GMT on New Year's Day.
North Wales Fire and Rescue said it was not called to any incidents and thanked the public for heeding safety warnings. South Wales Fire and Rescue said arrangements "worked well".
It was the eighth strike in the current dispute by union members in Wales and England.
The UK fire minister said the decision to strike over the festive period was "completely cynical", adding robust contingency arrangements were in place.
The UK government plans to raise firefighters' retirement age from 55 to 60 and increase their pension contributions.
Ministers say pensions remain "generous", but the Fire Brigades' Union (FBU) has said it could lead to older staff being sacked or having their pensions reduced.
Assistant chief fire officer Rod Hammerton said a high number of firefighters with South Wales Fire and Rescue Service chose to strike and they prioritised their response.
"The arrangements we put in place to provide a service during strike action worked well," he said.
"As soon as the strike period came to an end we were able to ensure a quick and safe return to normal services."
Chief Fire Officer Simon Smith reported that North Wales Fire and Rescue Service had managed its services effectively during the strike.
"There was obviously a reduction in the resources that we had at our disposal, however, our business continuity plans were put into operation effectively," he said.
Firefighters last staged a strike over the pensions dispute on Christmas Eve, and more action is planned for 3 January.
FBU general secretary Matt Wrack said: "Christmas is just an ordinary working time for firefighters, and our members have been on the front line dealing with storms, floods and other emergencies every day.
"None of us wanted these strikes, but firefighters on duty over the festive period don't have much to celebrate this year as they are being priced out of their pensions and face the sack because the government can't accept that 60-year-old men and women can't meet the same fitness standards as 20-year-olds."
The union claims that under the changes, at least two-thirds of firefighters would either face dismissal or a reduction in their pensions of almost half because they are unable to maintain required fitness standards beyond 55.
Cerith Griffiths, secretary of the FBU in Wales, said members had been put into a corner by the government.
Fresh negotiations
Mr Griffiths said support among union members in Wales had been "very solid" and there had been support from the public.
Fresh negotiations are due to take place in the New Year.
Crews would return to work - as they did in Kent and Surrey on Christmas Eve - in the event of a major emergency incident which might lead to large numbers of people being put at serious risk.
Fire Minister Brandon Lewis said: "I met with the FBU on Christmas Eve to continue discussions but their actions today show that they are not serious about resolving this dispute, which simply further damages firefighters' standing with the public."
He said the deal on the table gave firefighters one of the most generous pension schemes in all the public sector.
"A firefighter who earns £29,000 and retires after a full career aged 60 will get a £19,000 a year pension, rising to £26,000 with the state pension," he said.
"An equivalent private pension pot would be worth over half a million pounds and require firefighters to contribute twice as much."