Some economic comfort for Wales at the end of 2013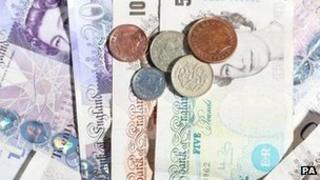 Did 2013 turn out to be better economically for Wales than you had expected?
Certainly we started the year worried about whether the UK as a whole would fall into a so-called "triple dip recession" but we end the year with more people working in Wales and the Welsh economy growing at one of the fastest rates in the UK, behind London and the south east.
But the gap is widening between the income we generate on average in Wales and the UK average, meaning that Wales is getting relatively poorer.
The first economic figures of 2013 showed the construction industry shrinking by 9% while GDP - the barometer across the economy - showed the UK economy still weakening.
Hardship money
A so-called triple dip recession would have been a first but in April official GDP data showed the economy had picked up and it has been slowly growing since then.
What became clear was the disparity across different parts of United Kingdom.
Also in April other statistics showed Powys to be the county with the least amount of money generated for every hour worked out of all counties in the UK.
In the summer, as rural Wales prepared for the Royal Welsh Show, BBC Wales discovered that the welfare organisation the Royal Agricultural Benevolent Institution had paid three times more hardship money in the first six months of this year than it had in all of the previous year.
Low pay is a big problem across Wales and particularly in rural areas.
Official figures show average wages in Powys to be about £22,000 - but the Mayor of Llanidloes, Phyl Davies, told us that in reality most people earned a lot less.
Housing benefit
He said that higher than average wages in the public sector raised the average whereas wages were typically more like £12,000 to £18,000.
This year also saw significant changes to welfare - and in particular housing benefit.
From April people who were getting housing benefit were assessed as to whether they "under-occupied" - in other words, whether they had more bedrooms than they needed.
If so they faced losing about £20 a week or having to move to a smaller house.
Dennis Tranter, from Cefn Golau in Tredegar, did not want to leave the three-bedroom house he had grown up in with his seven brothers and sisters.
Since his parents died he has lived there alone but with his relatives living nearby. He was told there were no one-bedroom houses available in social housing in his county and he did not want to move further afield.
Around 28,000 households in Wales were expected to be under-occupied.
The UK government defended the policy saying it would free up family homes where the children had left and make them available for families on housing waiting lists.
Better deal
BBC Wales discovered a massive gap between the number of households deemed as over-occupied and the number of one-bedroom homes in social housing that were available for people to move into.
Meanwhile, the rising price of energy and its toll on households has been contentious for most of the year.
In July, housing associations in Wales started working on a plan to help tenants join together to form a "mass switch" to get the best deals.
One organisation was Merthyr Valley Homes. Since then the concept has spread across the whole of Wales with thousands of people signing up to try to get a better deal. The "mass switch" will be in the New Year.
During the year, as the cost of fuel continued to rise, there were calls from a consumer watchdog for there to be protection for people reliant on oil for their central heating.
Rhys Evans, of Consumer Futures, said there should be regulation for oil as there is for gas and electricity so that people could check they were getting a good deal.
Figures from the Welsh government showed that last year one in three households in Wales were now in fuel poverty - that is determined as homes where more than 10% of income is spent on energy.
Colin Owens, who runs the independent company Oil4Wales, said he had been very aware this year how many people were struggling to pay fuel bills.
Price rises
Most electricity and gas users have seen their bills rise by much more than the cost of living.
Discussion about whether the so called "Big Six" suppliers are justified in their price rises has become as much a political debate as an economic one, and that will no doubt continue well beyond this winter.
As the year draws to a close we can find some comfort in some of the recent statistics about the economy - more people are in work in Wales than a year ago.
Wales no longer has a greater proportion of people unemployed than the UK average and the Welsh economy is growing at a faster rate than most parts of the UK behind the south east and north west of England.
However, we need to remember that is from a low base and the same data also showed that when compared with the UK average, Wales was still getting comparatively poorer.
The big question for the New Year is how much growth is actually built on debt - and how much cuts in the public sector, in particular in Welsh local authorities, will dent that growth.