Results are core measure of Wales' 2013 education year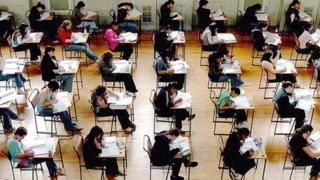 In January, Estyn set the ball rolling for a theme which would dominate education in 2013 in Wales - standards.
The nation's schools inspectorate raised concerns in its annual report that not enough was being done to get the best out of our best pupils.
The report also said fewer schools achieved good or excellent inspections compared with last year.
Tests have hit the headlines because of varying degrees of success.
In September all pupils from the age of five started sitting annual reading tests as part of the so-called Learning and Numeracy Framework, a decade after Sats tests were abolished in Wales.
The aim, according to the Welsh government, is to "make sure that the teaching of literacy and numeracy skills is embedded in all subjects across the curriculum rather than focused on English, Welsh and maths lessons alone".
A-level results were a "cause for concern," according to Education Minister Huw Lewis.
Wales had fallen further behind England and Northern Ireland in the percentage of pupils getting A*-A grades for the fourth consecutive year.
GCSE results bought better news. Across all subjects, overall pass rates in Wales remained stable at 98.7% while the gap in top grade pass rates between Wales and other UK nations narrowed.
Because sciences and maths exams were tougher this year than in the past, those results were down.
But there was a noticeable improvement in modern foreign languages.
However, the end of the year brought the news nobody involved with the education system in Wales wanted to hear; for the second time in a row, we had slipped further down the Pisa international education league tables.
When we first started getting Wales-specific results in 2007 for tests on 15-year-olds on maths, reading and science we were disappointed with our below-average performance.
In 2010, alarm bells started ringing when Wales slipped further behind in the following round of tests. Big changes to our schools were announced and rushed through. But it was not enough to arrest our decline.
At the beginning of December, the latest set of results showed we had fallen even further behind. Our score of 468 in mathematics this year was significantly lower than the 484 we got in the 2007 results.
That is a 16-point fall. The way Pisa scores work means that 20 points equates to six months of school.
Mr Lewis said the results showed that the education system here "needed to take things to a whole new level", but that "one of the most radical and ambitious reform programme Wales has ever seen" in education would ensure standards would begin to rise in future.
He also claimed that "during the mid 2000s" his predecessors as education minister, it could be argued, had "taken their eye off the ball on the basics of education in literacy and numeracy".
I think it is fair to say that criticism could not be levelled at his immediate predecessor, Leighton Andrews.
Curriculum crunch
At the end of June, having been in the job for two-and-a-half years, Mr Andrews quit after a row over his defence of a school which faced closure under his own surplus places policy.
He had been pictured holding a banner in support of Pentre Primary School in his Rhondda constituency. As one union leader put it to me, "he was as respected as he was infuriating".
It has also been the year of the curriculum crunch.
From PE to ITC, Welsh history to the arts, several government commissioned reports published their conclusions.
They all had one thing in common; that their own subject should be given far more attention on the curriculum by becoming a core subject.
They were all considered "important pieces of work" by Mr Lewis. The problem he has, of course, is that there is only so much time available on the curriculum. Schools are only open for a certain number of hours every day, so trying to please everybody will be difficult if not impossible.
The other problem is that by including more and more subjects as being "core" you dilute the very essence of what that means.
We will find out how the minister tackles that particular hot potato in the new year.
Another hot potato which needs to be dealt with is the number of local education authorities in Wales, though, granted, that hardly gets a mention with parents at the school gates.
But the relatively large number of small LEAs in Wales has been blamed for all sorts of problems with our education system; that they cannot specialise enough to offer the kind of help schools really need.
That several of them are in special measures does not help.
A review carried out by Robert Hill, a former advisor to Tony Blair, came to the conclusion they should be cut by a third, to around 13. A tough decision, which will have to wait until another review is carried out into public services here.
The report also made other, probably more important recommendations.
There will be more emphasis on getting the most out of teachers, supporting and promoting the best teachers.
Where schools are doing well, the heads might be put in charge of a cluster of schools, all in an attempt to improve standards.
As I said, it was the main theme of education in 2013.