Flooding is undercurrent to 2013 environmental issues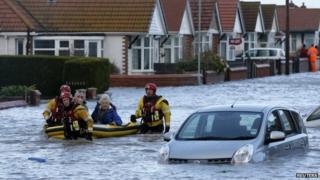 Flooding has been a constant theme of Wales' environmental year, to add to issues surrounding energy, farming, snow, cuts and policies.
There was even a flooding summit just a few weeks before Wales' new environment organisation Natural Resources Wales (NRW) was launched.
During the past 18 months there has hardly been any area of Wales which has not suffered from floodwater.
Earlier this month, Kinmel Bay and Rhyl were the most recent places to suffer.
Flooding needs a higher priority according to Darren Millar, Conservative AM for Clwyd West.
He said: "I think there needs to be some natural resourcing for those local authorities, specifically to support the work that they are doing in terms of flood risk prevention.
"I have lived through flooding, in Towyn in 1990. I know how devastating flooding can be.
"More can be done and should be done but unfortunately the planning system doesn't appear to be working and we're still building new homes in flood risk areas."
With so many homes and businesses affected, is it realistic to expect the £180m earmarked for flood defences during the period the Welsh government is in office to be enough?
Leadership on planning, and enforcing existing regulations where we build houses would help.
Being clear who pays and maintains defences would also avoid the debacle that residents of the Glasdir estate in Ruthin are having to contend with.
Flooding could well become the main focus of NRW - which will be difficult with so many other duties to attend to.
The use of the word "resources" in its name has been criticised by many, as has the cost of setting up the new agency.
As dozens of staff leave voluntarily at the end of 2013, Conservative assembly member for North Wales Antoinette Sandbach found the set up and pay offs for staff was £17m.
The overall set up costs of the agency - to save £158m within 10 years by merging the Countryside Council for Wales, the Environment Agency and the Forestry Commission in Wales - was £14.2m in the last financial year.
A further £2.8m of costs is due by the end of next March - which included information and communication technology, legal advice and re-branding.
According to Ms Sandbach: "I fail to see how that can be. NRW claims the job losses will only save £4.2m a year in salary costs. I'd like to know where the rest of the savings will be made.
"Surely there were better uses for £17m of public money?"
'Profoundly depressing'
A spokesman on behalf of NRW said: "Our biggest achievement this year, and our biggest challenge, was establishing a new environmental body for Wales. Our first priority was to make sure we continued with our work of protecting people from flooding, maintaining a good supply of timber for the industry and protecting wildlife."
Several environmentalists have questioned how much conserving the NRW will actually do.
The State of Nature report published in May, in Alun Davies's own words as Minister for Natural Resources and Food, was "profoundly depressing".
Naturalist and broadcaster Iolo Williams went further at the launch and blamed bureaucracy at all level of government.
He said: "My anger - and it is an anger, it's a venom - is aimed at those grey, fat-salaried spineless bureaucrats who sat by and watched all of this happen.
"People in key positions who could have made a big difference who were so concerned with moving up that career ladder, adding to that great big fat pension, that they either forgot about or didn't care about what was going on around them."
No form of energy has captured the opposition mood as much as the fear of fracking.
Hydraulic fracturing of unconventional gas underground has yet to happen in Wales, but licences have been issued by the UK government, some local authorities have allowed exploration wells to be drilled and companies are looking for finance.
First Minister Carwyn Jones, who has the energy portfolio, told me in an interview last February that he supported looking for shale gas - and the UK government is preparing for the next round of licences.
One developer claims that in a part of one level of shale rock in south Wales there is a possible 50 trillion cubic ft of gas. On average Britain uses up to 3.5 trillion cubic ft a year.
Anti-frackers prefer renewable energy. Anti-wind farm protesters in Powys and Anglesey and elsewhere want power stations.
A public inquiry into allowing five large wind farms in Powys started last June, and will continue in 2014.
Eventually it will be UK Energy Secretary Ed Davey who will decide on the planning inspector's advice.
In the meantime, National Grid continues with plans for a new power line in Montgomeryshire. After local pressure, the National Grid declared in September that eight miles of cables would be buried under the Vyrnwy Valley, but there are still plenty of concerns.
During the coldest spring for 50 years, lots of sheep farmers lost animals in north and mid Wales. There was wrangling for weeks, and there is still bad blood between the Farmers' Union of Wales and minister Mr Davies, who recently called for one farming union in Wales.
Also this year, badger culling came to an end earlier than anticipated in England, while co-financing more farmers to vaccinate wild animals in Wales is the policy the Welsh government is pursuing here.