80mph gales and rain to batter Wales again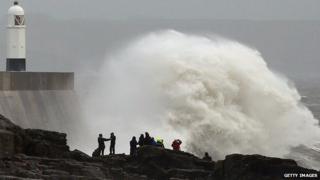 People are being warned to remain vigilant as gales and heavy rain are again expected to batter Wales.
Gusts of up to 80mph are forecast with the threat of disruption to transport and power supplies.
Strong winds are likely to hit much of the country but Anglesey and the north of Gwynedd are predicted to bear the brunt.
Rain will also be a problem in south and much of mid Wales with up to 40mm (1.5ins) falling on higher ground.
It follows storms earlier in the week which brought flooding to parts of south and west Wales.
Ten homes were flooded in Abergavenny in Monmouthshire and fire crews dealt with calls in places stretching from Pembrokeshire to the Rhondda valleys.
Natural Resources Wales said: "With the ground saturated after periods of heavy rain before Christmas, this further rainfall will quickly find its way into rivers and streams.
Driving conditions
"There is also an ongoing risk that leaves and other debris brought down by strong winds could block drains and cause roads to flood.
"People travelling after the Christmas break are advised to allow extra time as driving conditions may be difficult."
The Met Office has issued an amber "be prepared" warning of widespread gales affecting Anglesey and part of Gwynedd from 06:00 to 18:00 GMT on Friday.
It said the worst of the winds were likely to transfer across north-west Wales and much of northern England during the day.
Sixty to 70 mph gusts and some reaching 80 mph on the coast and high ground were expected.
The Met Office has also issued a yellow "be aware" warning of winds affecting Carmarthenshire, Ceredigion, Conwy, Denbighshire, Flintshire, Gwynedd, Anglesey, Neath Port Talbot, Pembrokeshire, Powys, Swansea and Wrexham which is valid from 05:00 to 09:00 on Friday.
The worst of the winds should ease on Friday evening but rain is also a problem, according to the Met Office.
It said up to 20mm of rain was expected across south Wales and there could be as much as 40mm on higher ground.
People should also take care near fast-flowing and swollen rivers and on the coast where strong winds could cause large waves.
There were several flood warnings and flood alerts in place across Wales on Boxing Day.