Festive swimmers brave wintry Boxing Day weather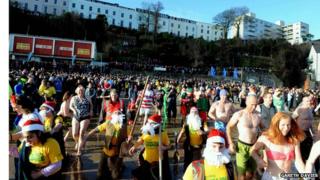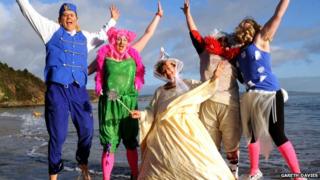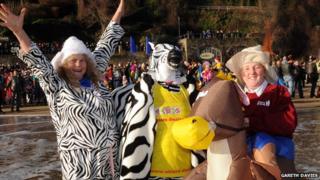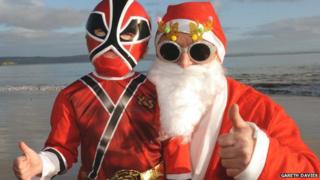 Hundreds of hardy swimmers across Wales have been taking the plunge in chilly seas at Boxing Day events.
More than 550 swimmers splashed out in the 43rd Tenby Boxing Day swim as hundreds more thronged the North Beach to watch in winter sunshine.
Organisers of The Walrus Dip at Cefn Sidan in Carmarthenshire were also expecting hundreds to take part.
And in north Wales, Llandudno was hosting its 33rd annual Boxing day swim.
At Tenby swimmers took to the sea in fancy dress themes inspired by pantomimes. Like many others the event raises funds for charity.
Chris Osborne, chairman of event organiser Tenby Sea Swimming Association, said: "It's been another great swim, with glorious weather creating ideal conditions."
At Porthcawl, 1,044 registered for the annual Christmas morning dip at Sandy Bay.
More than 2,000 spectators turned up - many in fancy dress - for what was the 49th Porthcawl swim.
'Exchange Christmas greetings'
Swimmers from across the UK and abroad took part including veteran Susan Powell from Caldicot, Monmouthshire, who has not missed the festive charity event since 1978.
Swim committee spokesperson Ian Stroud said: "The swim is truly a family event with many different generations of the same family taking to the sea and many in fancy dress.
"The atmosphere all around the swimmers is very special and hard to explain.
"I look forward each year to meeting old friends, many who I only see perhaps at the swim, and we exchange Christmas greetings, sometimes up to our waist in the sea."
But for anyone who missed the Christmas Day dip, there were plenty more taking place on Thursday.
The Walrus Dip at Cefn Sidan beach at Pembrey Country Park also had a pantomime theme this year.
The event has only been cancelled twice since its inception in 1984.
Park manager Rory Dickinson said: "It never ceases to amaze me how popular and how much fun this event is.
"It just seems to be the traditional thing to do for the brave and hardy to shake off the excesses of Christmas Day feasting."
For those who prefer keeping their feet on dry land, the 55th annual barrel rolling event is held in Denbigh.