South Pole cycle record within sight for Maria Leijerstam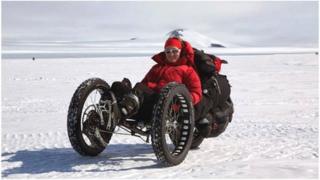 A woman from the Vale of Glamorgan is ahead of two male rivals in a 500-mile (800km) challenge to cycle from the edge of Antarctica to the South Pole.
Maria Leijerstam, 35, set off from the Novo Russian air force base on 16 December.
She is now more than half way, having negotiated what she had believed would be the hardest part of her journey, although the weather was deteriorating.
The most recent updates show she had a healthy lead over her rivals.
On Thursday her team blogged: "Amazing! Maria has just conquered the most feared part of her expedition - the Leverett Glacier!
"This mammoth climb was the steepest part of her journey.
"She set off this morning in white out conditions so bad that she could not see anything in front of her and had to navigate with her GPS. Visibility improved later in the day and she then focused on the steepest part of the climb from 2,200 metres to 2,300 at the top.
"She has managed to cycle most of the way on her amazing cycle but had to drag it through the last section with the help of a harness which produced a sore back."
That done, now all that stands between Ms Leijerstam and victory over American Daniel Burton and Spaniard Juan Menendez Granados is 500km along the polar plateau.
However, a more recent blog posting on Monday said: "Her knee has being giving her some problems particularly when she stops and starts again but she is managing it as well as she can with plenty of pain killers and hopefully it will hold out until she gets to the South Pole.
"Lets hope that heavy snow does not drift in as this would be her biggest challenge going forward."
Ms Leijerstam, from Llantrithyd, chose a steeper but shorter route than her opponents, opting to tackle the Leverett Glacier where 100mph (160km/h) winds can create vast snow drifts and bring temperatures plummeting to -40C (-40F).
In order to do this she also had to use a vastly different bike from those favoured by Burton and Menendez Granados.
While the men chose upright two-wheel machines, she went for a three-wheel recumbent cycle.
Her 45kg (100lbs) of food and equipment are stored over the extra wide rear driving wheels to add additional purchase in icy conditions, while the front wheels can be switched for skis to help negotiate snowdrifts.
But it is not just her bike which has had to undergo extensive adaptations.
Ms Leijerstam - who has previously taken part in the Marathon des Sables seven-day run across the Sahara - has also had to entirely retrain her metabolism for the Antarctic challenge.
Power naps
Before setting out she explained: "I've had to get my body prepared for burning fat and not carbohydrates, so I've been training for two to three hours on an empty stomach which teaches my body to become more efficient.
"I just take a vitamin C tablet and then have brunch when I get back. It wasn't easy at first but I've got used to it now.
"I've also been back and forth to Loughborough University and they've been testing my oxygen levels and I honestly think I've achieved my genetic fitness. I don't think I can get any better."
If she is to win, Ms Leijerstam will have to ride for up to 18 hours a day, followed by just two-to-three-hour power naps.
She is hoping to reach the South Pole by 7 January.