Christmas club agent Joanne Jones stole £7k savings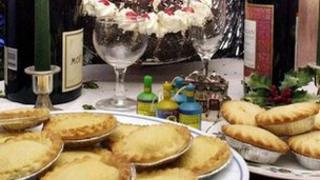 A woman has admitted stealing thousands of pounds from families saving for Christmas, including relatives and friends.
Joanne Jones, 36, pleaded guilty to theft totalling £7,734.90 from 18 people at Merthyr Magistrates Court.
The victims, who lost sums ranging from £70 to £1,300, learnt in August that an agent was late in paying money to the Park Group Christmas Savings scheme.
Jones was bailed until 13 January for sentencing at Merthyr Crown Court.
The families, who are all from the Treharris area, believed they had been making weekly payments to a Park Group agent since January.
It was their understanding that in November they would be given their cash back in vouchers to use to buy Christmas presents.
But Park Group wrote to them in August telling them their agent was behind with their payments and that they should consider contacting the police.
The police were called and Jones was arrested.
Park Group co-operated fully with the police investigation.
The families later started an online campaign for donations to replace their stolen savings.