Call to protect farmers in snow after sheep deaths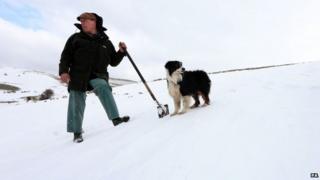 A call has been made to avoid a repeat of the problems faced by hill farmers whose sheep died during heavy snow.
Deep snow hit parts of north Wales in March and farmers reported losing hundreds of lambs in lambing season.
The Welsh government relaxed EU rules which require farmers to pay others to remove carcasses from their land and offered a £500,000 package to affected farmers but would not compensate them.
But the Welsh Conservatives say the response was too slow.
Antoinette Sandbach AM, Shadow Rural Affairs Minister, said she wants reassurances that lessons have been learnt in the event of serious snowfall.
"Many farmers in rural Wales have fallen on tough times with declining incomes, feed costs rising on top of seasonal challenges, so it is more important than ever that in the exceptional circumstances of extreme weather, the Welsh government will be swift to act," she said.
Farms in parts of Conwy, Denbighshire, Wrexham, Gwynedd, Flintshire and Powys were allowed to bury their own sheep, lambs and calves.
Hill farmer Gareth Wyn Jones from Llanfairfechan, Conwy, who lost hundreds of lambs in the snow earlier this year, called for emergency line to be set up.
"I've got in place now about six or seven different phone numbers of friends who came to help me dig the sheep out and they've said they will come any time," he said.
"That's something else we should be looking at - some kind of emergency line that people could call. The fire brigade said they were more than willing to come and help us.
"There's situations where the farmers are too old to go out and look for their stock."
A Welsh government spokesperson said it "strongly rejected" Ms Sandbach's latest claims, adding that a comprehensive package of support had been created after the heavy snowfall in March.
Natural Resources Minister Alun Davies has asked for a review into the resilience of the farming industry to severe weather.
"The minister is keen to build resilience within the farming sector so that farm businesses are better equipped to cope with challenges such as severe weather," said the spokesperson.
"He has asked Kevin Roberts, former director general of the NFU in England and Wales, to undertake a review in to the resilience of farming in Wales.
"The final report on resilience will be presented to the minister shortly and will be published in early 2014."