Alun Davies calls for single farming union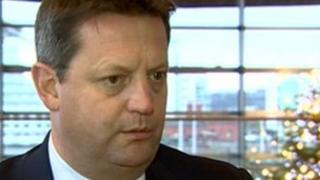 Wales should have just one "strong" union representing the country's farmers rather than two, the natural resources minister has said.
Alun Davies said the duplication was "nonsense" and the two existing unions needed to think about how they worked in future.
He said one union was needed to "speak strongly for the industry".
Both NFU Cymru and the Farmers' Union of Wales (FUW) expressed concern about Mr Davies's comments.
Speaking on Radio Cymru, Mr Davies said reducing the number of unions had been his view since he was appointed minister in March but he was only now speaking out.
"I've felt this since I've had the job. I haven't said anything publicly but it is nonsense that we have two unions in Wales," he said.
"A country of three million people - less than 100,000 working in the agriculture sector.
"We need one strong union that will campaign and will speak strongly for the industry."
Mr Davies said he often had two separate meetings to discuss the same issues with different people.
The unions must think seriously about how they represented the industry's needs for the future, he said.
NFU Cymru president Ed Bailey said he was shocked by what Mr Davies had suggested.
"If Emyr [Jones] from the FUW and me walk into the office together to speak to the minister and he has the same message from us both, that will strengthen that message and not weaken it I would say," he said.
Mr Bailey said other industries such as education and health had more than one union representing workers.
But he said he would do whatever the members wanted him to do.
FUW president Emyr Jones said he could understand what Alun Davies was saying.
"But there are differences between both unions since the FUW represents Welsh farmers only - NFU represents farmers across Britain," said Mr Jones.
"I am answerable to the members in this union and no one else. I don't want to be answerable to someone across the border.
"We as a union can stand independently - and totally democratically - and fight for agriculture in Wales."