Brain tumour fraudster Gary Francis sentenced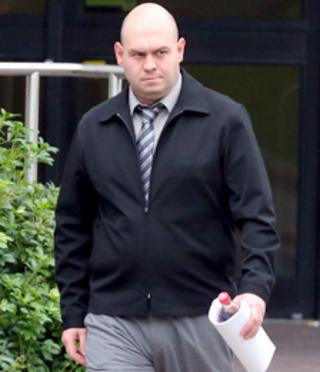 A man who wrongly claimed he had a brain tumour tricked people including his own brother into fundraising for him, a court was told.
Gary Francis, 30, of Llanelli, Carmarthenshire, put up posters about his supposed illness, saying he needed £28,000 in private care.
His brother even climbed peaks around the UK for the fundraising effort.
Francis admitted six fraud offences at Swansea Crown Court and was jailed for 16 months, suspended for two years.
He was also told to carry out 250 hours of unpaid work in his community.
The court heard Francis was found out when his worried family told his GP they feared he was about to die.
By that time, a fundraising campaign had appeared in local newspapers, and his brother had scaled the three highest mountains in England, Scotland and Wales to contribute cash.
The deception led Francis to shave off his hair and his eyebrows and claim it was the result of chemotherapy.
He began walking with a stick and trailing a leg behind him, saying he was suffering side effects from the treatment.
Francis spent the £12,800 raised - including £1,000 donated by a church - on his home.
Frank Phillips, defending, said his client - who had debts after the break-up of a relationship - had self-diagnosed himself as having a brain tumour after surfing the internet when he suffered headaches.
Mr Phillips said: "By the time he realised he was not ill, the ball was rolling and he could not find a way of stopping it."
Around £2,000 had been repaid but many other contributors could not be found and there were "grave" feelings towards the defendant in the local community, the court heard.
Judge Peter Heywood said he thought the defendant should serve his sentence in the community where he had offended.
He told Francis: "You even conned members of your own family. Your illness was a complete myth."