Llandrindod Wells dentist jailed for £48,000 fraud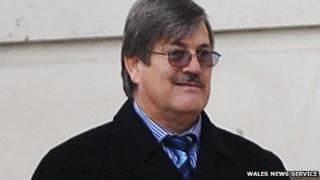 A dentist "driven by greed" who falsely claimed almost £48,000 for work on NHS patients has been jailed for 18 months.
Jochemus Hermanus Venter, 55, charged for £300 crowns when all he did was fillings and also put in bills for non-existent work.
Venter made more than 200 overpriced claims for both dental and orthodontic treatment at his practice in Llandrindod Wells, Powys.
He had admitted eight counts of false accounting at Cardiff Crown Court.
The claims totalling £47,947.43 were made between April 2006 and July 2010.
South African-born Venter had a contract with Powys Local Health Board to treat people at NHS rates.
'Sophisticated fraud'
The court heard that he would charge up to £40 for a sports mouth guard and then put in a £1,200 bill for orthodontic work.
Prosecuting barrister Carl Harrison said Venter "regularly and systematically" made false claims for dental treatment.
"He claimed for treatment not provided and for higher band treatments than the ones he had actually done.
"He also claimed for orthodontic treatment when no such treatment was provided."
He had sold the practice in 2008 to a dental company but continued working there, involved in mainly NHS work.
The NHS fraud service was finally alerted to Venter's scheme after concerns were voiced by the dental nurse and receptionist at the practice.
Venter's barrister David Aubrey QC told the court that Venter knew that what he was doing was wrong.
He said: "He was highly thought of in the community and was industrious and hard-working. Those who knew him could not believe it of him.
"He has lost his good name and any chance of pursuing his career any further."
The court heard that the practice's annual income from the NHS averaged more than £350,000.
The father-of-three was a school governor and had been well-respected in the town.
Venter asked the court to take 147 further offences into consideration.
Sentencing Venter to 18 months in prison Judge Tom Crowther told him: "This was a deliberate, concerted and sophisticated fraud over four years driven by greed."
Claire Busby, a specialist fraud lawyer from the Crown Prosecution Service, said: "Dr Venter abused his position as a National Health Service contractor to defraud the taxpayer out of a substantial sum of money over many years.
"This was direct theft from an important public health service.
'Greed'
"He regularly and systematically made false claims for the provision of NHS dental treatment and has admitted to a total of 155 fraudulent claims, covering instances where either no treatment at all was provided, or substantially less was provided than was claimed for.
"He made feeble attempts to justify his behaviour by stating that he believed he was not adequately paid by the NHS but this simply demonstrated his greed and self-interest.
"Those who commit fraud, in whatever walk of life, should know they risk prosecution in a criminal court."
The £47,900 has since been recovered under the Proceeds of Crime Act.