Stormy Christmas warnings issued for Wales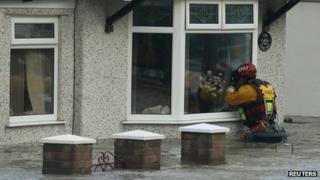 Heavy rain and strong winds will set the scene for Christmas say weather forecasters, as they issue a series of warnings for the next few days.
A yellow warning for rain is in place for large parts of Wales for Saturday, and again for Monday and on Christmas Eve.
The Met Office said that following downpours on Friday there could also be localised flooding on Saturday.
Monday and Tuesday see warnings of gale force winds of up to 70mph.
Natural Resources Wales (NRW) said it was carefully monitoring conditions over the next few days and issuing updates to its flood alerts every 15 minutes.
"With ground saturated, further rainfall will quickly find its way into rivers, meaning that further flood alerts and warnings are likely to be issued," said NRW staff.
"The forecast remains very unsettled continuing into next week, with another weather system forecast for Monday and Christmas Day both bringing more wind and rain.
"Officers will be monitoring forecasts and weather conditions closely, as well as checking flood defences and making sure rivers are clear of blockages which could obstruct flows and cause flooding."
Issuing a yellow alert for Saturday, Met Office forecasters said: "This will bring some locally large rainfall accumulations, particularly on hills, and following previous wet weather is likely to lead to some localised flooding."
The warning covers south east, south west and mid Wales.
For Monday and Christmas Eve, the forecasters added: "A very deep area of low pressure will bring very strong winds and heavy rain to much of the UK from Monday morning, through to late Tuesday morning.
"There is the potential for widespread gales with gusts of 70 mph.
"The public should be aware of the potential for significant disruption to travel due to the very strong winds and also the risk of some flooding issues thanks to the heavy rain."
County-wide warning
In Rhondda Cynon Taf, the council has issued a special request for residents to be vigilant over the next few days.
It comes a week after 30 homes had to be evacuated in Treorchy during a flash flood, caused when a pumping station failed.
"With the threat of a significant storm this weekend, our residents need to be assured that council officers will be constantly monitoring the weather conditions and will be working with its Streetcare team to ensure that all situations will be addressed immediately and with as little disruption as possible," said Councillor Andrew Morgan.
Officials have asked residents to contact the council if they spot issues with blocked drains or culverts, and urged the public to stay away from parks and woodlands in high winds because of the risk of trees falling.
"Public safety will remain paramount and we ask the public to work with us and alert us of any incidents," added Mr Morgan.
On Friday, motorists in parts of Wales were warned to be careful of icy conditions following a spate of crashes.
Some roads were closed and there were treacherous driving conditions reported in several areas, particularly the south east Wales valleys.
Heavy rain and strong winds caused problems later in the day with gusts of 78mph (125km/h) reached at Capel Curig in Snowdonia.