Three Cardiff sites considered for new BBC Cymru Wales HQ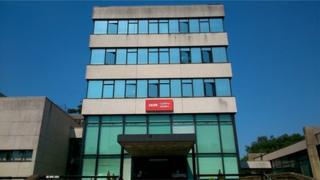 BBC Cymru Wales' new headquarters could potentially be based at one of three Cardiff sites, it has been revealed.
In an email to staff, director of BBC Cymru Wales, Rhodri Talfan Davies, said submissions from developers had been "whittled" down to a shortlist.
It includes Capital Square - outside Cardiff Central railway station's main entrance; the station's car park; and Cardiff Waterside in Cardiff Bay.
The approval of the BBC Trust and executive board will be needed.
Mr Talfan Davies wrote to BBC staff on Thursday.
He said the Capital Square site was outside the main north entrance to Cardiff Central.
The south side of Cardiff Central - currently the station car park - is also on the shortlist.
Cardiff Waterside is next door to the Senedd in Cardiff Bay, overlooking Roath Basin, where BBC Cymru Wales' drama studios are based.
Mr Talfan Davies said: "Over the last couple of months we have received detailed submissions from a number of developers championing different sites across Cardiff.
"Each has responded to a brief which asked them to set out how they would address issues such as value for money, infrastructure requirements, transport links, design quality, location, track-record etc."
He said the three shortlisted sites performed best against selection criteria and BBC Cymru Wales was "excited" by the proposals.
He added: "Although we are now down to three potential sites there is still a lot of work to be done before we can take the final business case to the BBC executive board and BBC Trust in Spring next year.
"The BBC will of course want to be assured that the proposed relocation is a sound investment and provides the best possible value-for-money."
BBC Cymru Wales said in August its Llandaff headquarters - its base for 47 years - was for sale under plans to relocate to a purpose-built broadcast centre elsewhere in the Welsh capital by 2018.
At the time, managing director of BBC operations and finance, Anne Bulford, said the "ageing infrastructure at Llandaff is clearly reaching the end of the road and it is time to look to the future".
BBC Cymru Wales also occupies Ty Oldfield, opposite Broadcasting House in Llandaff, which is also on the market.
The BBC has also held discussions with Welsh language broadcaster S4C about possibly collaborating at the new centre.