Lostprophets' Ian Watkins begins 35-year term for child sex offences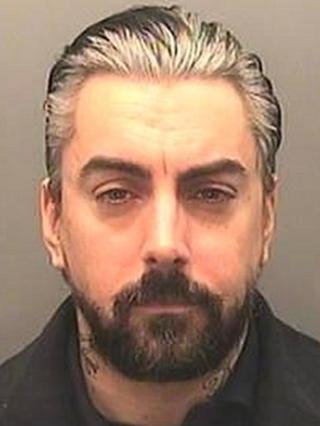 Paedophile Lostprophets' singer Ian Watkins is beginning a 35-year sentence for child sex offences, including attempted rape of a baby.
Watkins, 36, from Pontypridd, was jailed for 29 years and will spend a further six years on licence.
A police watchdog is investigating why three police forces did not act sooner on information about the paedophile.
The NSPCC said the sentence reflected the severe damage caused by a "highly manipulative and devious sex offender".
The charity said referrals to its helpline had gone up by over 70% following the case and it urged victims to come forward.
Des Mannion, NSPCC national head of service for Wales, said: "Watkins used his status and global fame as a means to manipulate people and sexually abuse children.
'Desperately need help'
"But we must nevertheless remember that this case isn't about celebrity, it's about victims. And those victims are children.
"The effects of these crimes can last a lifetime and there are many other children - victims of Ian Watkins or others like him - that desperately need our help."
Watkins admitted the attempted rape and sexual assault of a child under 13 but pleaded not guilty to rape at Cardiff Crown Court.
He also admitted conspiring to rape a child, three counts of sexual assault involving children, seven involving taking, making or possessing indecent images of children and one of possessing an extreme pornographic image involving a sex act on an animal.
He was sentenced alongside two women who are the mothers of the the children he abused.
The women, who like Watkins had admitted child abuse offences at a hearing in November, were given 14 and 17 years in jail respectively.
The judge Mr Justice Royce said this child abuse case broke "new ground" and "plunged into new depths of depravity".
Watkins was shaking visibly in the dock as he was sentenced.
But the court had heard on the day after he admitted the charges in court, in a recorded telephone call with a female fan from prison and said he was going to issue a statement saying it had all been "mega lolz," (slang for a big laugh).
The judge said Watkins had a "corrupting influence", and had shown a "complete lack of remorse". He also said Watkins posed a significant risk to the public in particular to women with young children.
He told one of the women who were involved in the abuse: "What you were doing is both sickening and incomprehensible". He told the other that she did not regard her child as a human being.
Meanwhile, South Wales Police are investigating whether Watkins also committed offences in Germany and America.
A spokesman for the US Immigration and Customs Enforcement (Ice) told BBC Wales: "Special agents with Ice's homeland security investigations in Boston and Los Angeles assisted British authorities with their ongoing investigation.
"We continue to support their efforts as necessary."
The Independent Police Complaints Commission (IPCC) is also investigating three police forces over the case.
South Yorkshire, Bedfordshire and South Wales are being investigated over information received about Watkins before his arrest in December 2012.
Three other forces, Essex, West Yorkshire and the Metropolitan Police, also supplied information that they had been given about Watkins for the inquiry but are not currently under investigation.