Wales unemployment falls by 7,000 to bring rate to 7.4%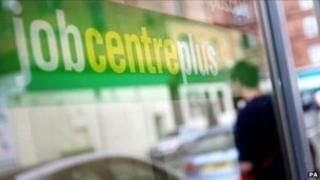 Unemployment in Wales has fallen again and is no longer at a higher rate than the UK average for the first time in two-and-a-half years.
Figures from the Office for National Statistics show in the three months to October, unemployment fell 7,000 to 112,000.
It means the unemployment rate stands at 7.4%, which is on par with the UK average.
Welsh Secretary David Jones said the "private sector is driving the growth".
"This marked improvement in Wales' position in the labour market is a strong sign that, not only are we seeing an economy that is growing, but that growth is gathering real pace," he said.
"Wales's employment rate has increased by more than any other region in the UK, and the rate of economic inactivity has fallen by the largest amount of all the UK nations and regions.
'Considerable challenges'
"It is clear that it is the private sector that is driving this growth.
"However, there is no room for complacency. This week's announcement from Sharp of proposed josses at its Wrexham site was a sobering reminder that there are still considerable challenges ahead."
Eluned Parrott, Welsh Liberal Democrat business spokesperson, said: "The economy is picking up and people are starting to feel it, employment figures are continuing to move in the right direction, but there is still a long way to go."
Robert Lloyd Griffiths, director of the Institute of Directors in Wales, said there was no time for complacency, but said "these figures bode well for 2014".
He added: "Businesses should be encouraged to invest further in projects and people, for the benefit of their companies as a whole and ultimately, the Welsh economy."
UK unemployment fell by 99,000 in the three months to October, with 2.39m now out of work.
The unemployment rate fell to 7.4%, its lowest rate in the UK since the February-to-April period in 2009.