Gearbox problem grounds Dyfed-Powys Police helicopter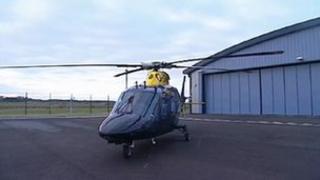 The Dyfed-Powys Police helicopter is temporarily out of action due to a gearbox problem.
Emergency air coverage for the force is being provided by the South Wales and Gwent police helicopter.
The force hopes to have the helicopter airborne again by next week.
The fault was discovered during a maintenance check and will cost the force £250,000 to repair according to Dyfed-Powys Police and Crime Commissioner Christopher Salmon.
A Dyfed-Powys Police spokesman said the fault on the nine-year-old fourth generation Augusta 109e Power helicopter is unconnected with the Glasgow helicopter crash on 29 November, when 10 people died.
This was followed by the precautionary grounding of 21 police and air ambulance Eurocopter EC135 Type 2 helicopters.