Collar wedged with nails kills cat says RSPCA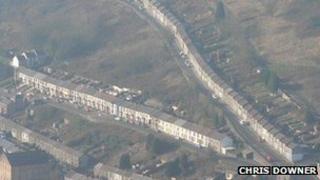 A cat has suffocated after its collar was wedged with nails preventing it from loosening, the RSPCA has said.
The cat, a brindle tabby was discovered gasping for breath by a member of the public in an alleyway in Tylorstown, Rhondda.
It died moments later and two nails were found wedged it its collar. The cat was not microchipped and its owner cannot be traced.
The RSPCA has launched an appeal for information.
RSPCA Inspector Gemma Black said: "We are eager to speak to anyone who has information about this sickening incident.
"Whoever did this needs to be caught and dealt with immediately before this happens to another innocent animal."
Anyone with information is asked to contact the RSPCA inspector appeal line on 0300 123 8018.