BBC spent £360,000 on Eos Welsh language radio row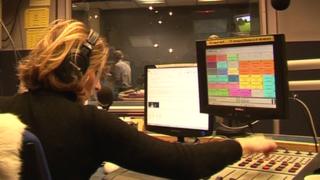 The BBC has spent more than £360,000 taking Welsh language composers and publishers to a copyright tribunal in a bid to resolve a royalty payments row.
Eos, an agency for some Welsh music producers, wants to raise the fee for the use of their work.
The tribunal spent a week hearing evidence from both sides in September this year, and is expected to issue its judgement in the case on Monday.
Among the BBC's costs was a bill for £27,720 for an expert witness.
More than £4,000 was spent on travel, accommodation and meals for those who attended the hearing at Caernarfon Crown Court.
The BBC also contributed £63,000 towards Eos's legal costs, as well as £15,000 towards the cost of Eos's expert witness.
The total amount spent on the tribunal process so far comes to £363,526.22.
Eos, a collection society that controls the broadcast rights of a large selection of popular Welsh language music, had argued that the cost of an annual licence to access its repertoire should be increased to £1.5 million.
The BBC told the tribunal it was only prepared to pay £100,000.
Since reaching an interim agreement earlier this year, the BBC has been paying Eos a £120,000 annual licence to broadcast its members' music.
A new, binding licence fee will be published by the copyright tribunal in its judgement on Monday.
Responding to the costs of attending the tribunal, the BBC said: "Eos were seeking £1.5m a year for the rights to play their members' music, which equates to a sum of £4.5m over a three-year licence period.
"This figure also represents a 12-fold increase on the annual interim fee of £120,000 agreed between the BBC and Eos in February.
"Consequently, given the multi-million pound settlement sought by Eos, spending £360,000 on the legal fees for both parties is a pragmatic and responsible use of licence fee payers' money.
"It was important that both parties were able to put their arguments forward at the copyright tribunal and we hope the decision, whatever its nature, will lead to a period of stability."
The two sides have disputed the value of a licence to play the music since Eos members began transferring their broadcast rights from the UK's main royalties collection agency, PRS for Music, in 2012.
Eos attempted to negotiate directly with the BBC for higher royalty fees, as the broadcaster's Welsh language outlet Radio Cymru was the main user of the Eos repertoire.
On 1 January this year Eos officially took control of its members' broadcast rights, but the failure to reach an agreement meant the BBC was forced to make changes to the schedule and playlist of BBC Radio Cymru.
The music controlled by Eos only returned after a temporary agreement was reached six weeks later.
Eos members had been unhappy for some time about the amount of money they received when their work was broadcast by radio and TV stations.
Annual payment
Broadcasters, including the BBC, make an annual payment to PRS for Music for the right to broadcast all music it controls.
The PRS uses data provided by broadcasters about how often it has played certain songs, and on which radio or TV stations, in order to place a value on the music.
It then distributes payments to the song's composers and publishers.
In 2007, PRS for Music changed the way it calculated payments for Welsh language works.
This included a reduction in the additional payments that some members received for having their music performed in public places, such as pubs, coffee shops and gym classes.
While some Welsh language members complained to PRS about the changes, a number of them decided to withdraw their broadcast rights from PRS and form Eos.
Eos successfully negotiated a new licence with the Welsh language TV channel, S4C, in 2012 but it must rely on the copyright tribunal to determine how much the BBC should pay to play its members' music on all of the corporation's TV and radio services.