Fears for Hoopoe bird blown in by north Wales storm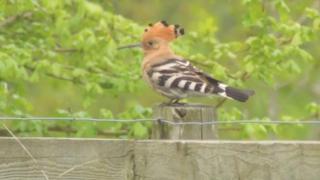 There are fears for the future of an African migratory bird which is thought to have been blown to Conwy in last week's storms.
The distinctive Hoopoe arrived unexpectedly at Castle Cove caravan park in Pensarn near Abergele.
Experts say there is a limited opportunity for the Hoopoe to find its bearings and resume its flight.
It needs a northerly wind to aid its journey, and none is forecast for north Wales for at least the next week.
Daniel Jenkins-Jones, of RSPB Cymru, said: "It's really a Catch-22 for the Hoopoe. The mild weather we're experiencing means that, for the time being at least, it's in no real danger.
"But that same mild weather means that the wind is coming from the south, and the Hoopoe won't leave until it gets a following north wind.
"No-one can be certain, but by far the likeliest explanation is that it tried to migrate from mainland Europe last week and simply couldn't battle the freak winds."
Mr Jenkins-Jones added: "So whilst it seems healthy, it's likely to be very tired, hungry and in need of a rest. But with food in short supply in Wales during winter, it can't afford to rest here for too much longer."
While Hoopoes occasionally visit Wales in summer, it is virtually unheard of for them to be seen in December when they should already be in the African tropics.
With striped wings and brown and pink plumage, its appearance is as distinctive as the "Oop Oop" call for which it is named.
Christmas
It exists on insects and small reptiles, but attempting to feed it now could run the risk of encouraging it to stay until the weather becomes too cold for it to survive.
Mr Jenkins-Jones says that in fact the best thing the public can give the Hoopoe is space.
"With many of our native birds we can help them in winter by putting-out food, but that's not the case with the hoopoe.
"Our reserve in Conwy is monitoring things, and if it was sick or injured then they'd have to consider bringing it in but whilst it might sound harsh, its best chance of survival is if we leave it alone.
"It's probably quite stressed and disorientated already, so too many people crowding it is likely to set back its departure still further."
He estimates that with the current mild weather, there may be sufficient food for the Hoopoe to survive until Christmas.
A change in the weather may shorten that window, but could also represent the best chance of setting it on its way to Africa.