Ex-Awema chief Naz Malik denies claims fraud charge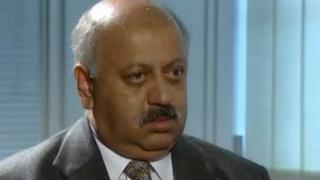 The former chief executive of the All Wales Ethnic Minority Association, Awema, has denied three charges of fraud at Swansea Crown Court.
Nasir Malik, 64, denied he paid more than £9,000 into his personal bank account from money he claimed.
Swansea-based charity Awema was wound up in February 2012 after its public funding was withdrawn following claims of financial mismanagement.
Mr Malik was bailed until the next hearing in February.
The charity distributed public money to projects across Wales in order to promote equality and diversity.