Firefighters in Wales stage more strikes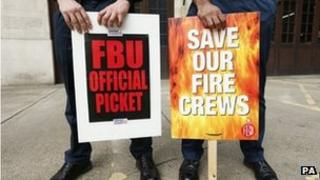 Fire chiefs said their stand-by plans enabled them to cope during two evenings of industrial action.
North Wales chief officer Simon Smith accused the Fire Brigades Union (FBU) of striking "when the risk to people's safety is inherently more significant".
The union said its row was to do with people's safety and members' pensions. UK ministers say action is unnecessary.
Mid and West Wales Fire Service reported operating at 75% availability on Saturday evening.
The action took place across Wales and England between 18:00 and 22:00 GMT on Friday and Saturday.
In North Wales, crews were called on Saturday to a house fire in Cemaes Bay, Anglesey at 21.36 GMT, with a woman taken to hospital suffering from smoke inhalation and shock.
There has been substantial damage to the property and the cause of the fire is under investigation.
There were also two fires on Friday night - a bonfire in a field near Mold and a dishwasher fire at a house in Buckley.
Mr Smith thanked the public for heeding safety advice, adding: "Although this strike is over, it is as yet unclear whether there will be further industrial action by firefighters so I would remind people that attention to fire safety and road safety remains of paramount importance especially over the Christmas period."
Mid and West Wales Fire and Rescue Service operated at around 75% availability on Saturday evening - among incidents was a kitchen fire at Llandybie in Carmarthenshire, in which a man was treated for smoke inhalation; and a road crash on the A485 at Pencader.
There was 70% availability on Friday night and crews were called out to four incidents, including a three vehicle road crash near Trimsaran and flooding at a property in the St Thomas area of Swansea.
South Wales assistant chief fire officer Rod Hammerton said after Friday night's action: "As expected, the number of firefighters from South Wales Fire and Rescue Service who chose to strike was high, which resulted in a large reduction in the resources that we had at our disposal.
"As such, we were unable to provide the same high level of response to incidents as we normally would and as a consequence prioritised our response to those in most critical need."
Crews were called to a fire in workshops near Tredegar House in Newport, an hour before the end of the action on Saturday.
Unions oppose plans to make members work until aged 60 but ministers say public sector pensions must be "sustainable".
In a statement, the FSB said evidence suggested two-thirds of firefighters would be unable to maintain fitness standards required by the fire service beyond the age of 55.
And the union said that would mean firefighters facing being dismissed or seeing their pension reduced.