South Wales NHS shake-up decision delay receives backing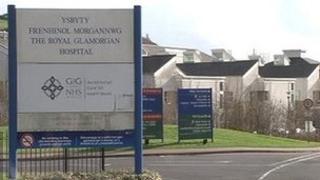 The postponement of a decision on how hospital services are delivered in south Wales has been backed by the body representing health boards and trusts.
Hospitals in Cardiff, Swansea, Newport, the south-east Wales valleys and parts of Powys are affected by the shake-up across five health boards.
The boards were due to decide on Thursday whether to back the changes.
Welsh NHS Confederation director Helen Birtwhistle said the postponement was disappointing but she supported it.
It came as NHS managers said final details of the plans - called the South Wales Programme - still needed to be worked through.
The changes could see a number of specialist accident and emergency units cut and fewer hospitals offering specialist services.
It would see services such as care for new-born babies centralised at fewer large hospitals.
Health officials and ministers say change is needed to ensure the Welsh NHS meets UK standards.
But the plans have provoked concern, including protests about how they could affect the Royal Glamorgan Hospital in Llantrisant.
'Quality care'
"At this stage it would be a shame if the programme board's recommendations to health boards were not able to include all-important final details," Ms Birtwhistle said.
"In our view, it is best to get this absolutely right with the result of delivering better quality care to patients than to push ahead for the sake of meeting a self-imposed timetable.
"We are confident that as a result of the programme board's work, the reshaping of services will create a different but more sustainable network of hospitals throughout south Wales.
"This will have the direct result of delivering better quality care to all patients."
The boards were due to decide on Thursday whether to back the plans and a similar decision in August was delayed after NHS bosses received 53,000 public responses.