Drivers warned not to run over Aberdyfi otters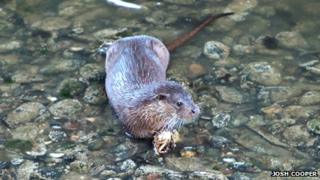 Two otters have become so used to people at a Gwynedd village that drivers have been warned they risk running them over.
The otters have drawn onlookers for weeks at Aberdyfi where they have fished, fed and played on the beach.
Zoologist Dr Elizabeth Andrews said she is amazed to see the normally shy and secretive animals being so brazen.
But the council warned the otters are wild and should not be approached and drivers should also look out for them.
The otters have set up a home on the Dyfi Estuary, living just yards away from Aberdyfi villagers and visitors alike.
It is thought the pair may be a brother and sister from a litter raised last year close to a boatyard on the nearby River Leri.
In recent weeks, the male has been seen paddling close to swimmers, lounging on the jetty to eat fish and eels he has caught and searching for crabs at the end of the jetty as children were crabbing.
Dr Andrews, who has surveyed their numbers across England and Wales, said she still cannot believe two otters are living yards from her door.
She said: "In all these years of studying the otters, this one the biggest surprises we have had.
"We are rather proud of them. It has given simple delight to many visitors, some of whom hardly know what an otter looks like.
"They are not scared of people. We have had to shoo them off the main road, when the male was quite resentful.
"He has also been on the pavement in the middle of the village, walking along just curiosity."
Dr Andrews said she thought the pair were probably attracted by the variety and availability of food in the estuary, with onlookers seeing them tucking into plaice, flounder, dab, crab and eel.
She said: "They swim right outside my window. I can't believe it.
"The usual answer to the question how many otters did you see is "none" because normally they are not around during the day.
"You have to be very lucky to seem otters normally. They have a home range of 15 miles [24km] for male otter so the chances of you coinciding with an otter are pretty remote."
"With these otters, you can talk in terms of feet, maybe 10ft [3m]. It is totally unbelievable."
Town council clerk Neil Storkey said: "The male does seem very tame and he does tend to perform for the visitors.
"Where there is a little little concern is if children were to get too close, they could get a nasty bite.
"The male has been seen walking across the road. We are concerned that he might get run over."
The Dyfi Estuary has a number of national and international conservation designations.
It is also one of the UK's five biosphere reserves determined by the United Nation's scientific organisation Unesco.
A survey three years ago by Environment Agency Wales said there are signs the otters now live in 1,000 sites around Wales.