£10m government loan for Cardiff Airport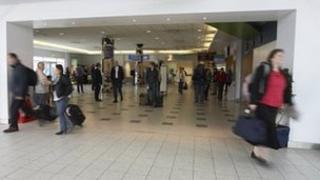 Cardiff Airport is to receive a £10m loan from the Welsh government to make improvements to the site.
The money will be used for a new security area to accommodate new technology and more passengers, a new taxi booking service in arrivals and improved drop off and pick up areas.
The loan will be repaid over 12 years, and further improvements will be made.
The Welsh government bought the airport for £52m in March and is looking for an operator to run it on its behalf.
Conservatives accused Labour ministers of having a "bottomless pit" of cash for the airport, whilst cutting key public services.