John Lewis chief: 'Consumer boom won't overheat economy'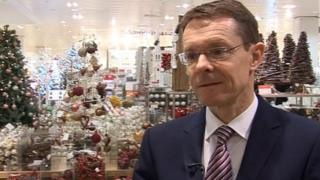 There is no danger of the economy overheating through a consumer boom, according to the managing director of the John Lewis chain of department stores.
On a visit to Cardiff, Andy Street said that in large parts of the UK, including Wales, growth was soft and behind the national average.
Mr Street is a member of the prime minister's business advisory group and chairs the Birmingham local enterprise partnership.
He told BBC Wales that the Welsh government had the right approach to enterprise zones, by specialising certain industries in specific areas, but only if they were offering genuine world class services.
The Office for National Statistics (ONS) is releasing figures showing the average weekly spend for households in 2012 and how this compares with previous years.
Sales at the Cardiff John Lewis store are up 2.5% on last year while sales have increased by 5% across Wales including online purchases.
Economic downturn
Last week in his autumn statement, Chancellor George Osborne said the economy was expected to grow by 1.4% this year.
But critics have warned this is being fuelled by an unsustainable consumer spending boom.
Andy Street took the helm of the John Lewis chain in 2007 as the economic downturn began.
"I don't think it's a consumer boom. I don't think we're heading for the difficulties we had in 20007 when the economy was overheating. Not at all," he told BBC Wales.
"Growth is moderate at the moment. It's certainly not getting too fast and of course in some areas of the country growth is still pretty soft and Wales would be included in those areas that are a bit below the national average."
"So certainly no dangers of overheating yet."
Inward investment
Mr Street is one of a small group of business leaders "from sectors of strategic importance" chosen by David Cameron to advise him "on critical business and economic issues facing the country".
Other members of the 16-strong business advisory group include Eric Schmidt, the executive chairman of Google, and Sir James Dyson.
Mr Street said there were a lot of positive economic indicators for the UK including inward investment and exports.
He also chairs the Birmingham and Solihull local enterprise partnership.
The Welsh government has taken a different approach to UK ministers by making enterprise zones in Wales focus on specific industries.
Deeside is specialising in advanced manufacturing while Cardiff is focused on financial services.
"I think it's the right approach," Mr Street said.
"Something we've done in the Birmingham local enterprise partnership is said 'which are the areas we can really compete in globally'."
"The approach the Welsh have taken in actually saying 'it's green energy in Snowdonia, it's financial services in Cardiff', it is right to specialise."
"But just the nudge would be, you've got to be genuinely sure that these are areas where you are really world class."