Dylan Thomas centenary festival launched in Cardiff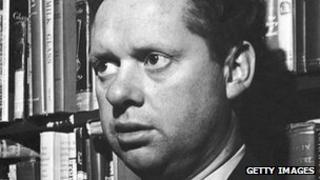 The international programme of a year-long festival celebrating the 100th anniversary of the birth of poet Dylan Thomas has been launched.
Starless and Bible Black will include events in five countries: Argentina, Canada, USA, Australia, India.
It is part of the Dylan Thomas 100 Festival running throughout 2014 to pay tribute to the Swansea-born poet.
Previously unseen photographs of Thomas's family life will be on display at the National Museum Cardiff launch.
Contributors include the poet's granddaughter Hannah Ellis, US writer and political activist Kevin Powell, Dylan Thomas expert Jeff Towns and harpist Claire Jones.
The Dylan Thomas 100 Festival aims to show the legacy of Thomas's work.
The international element of the festival has been drawn up in partnership with The British Council.
One of the projects is Walking Cities, a collaboration between four poets from Wales and four poets from India.
Each Welsh poet is to host a partner poet for two days so the pair can explore a landscape significant to Thomas and record a podcast about their journey.
Further projects are expected to be announced in 2014.
'New audiences'
It will be accompanied by an education programme offering teaching notes and other resources for schools aimed at encouraging them to learn more about Thomas as well as other writers.
The British Council said: "Starless and Bible Black aims to ensure that the centenary creates lasting cultural relations and impact by showcasing high quality Welsh work abroad in a spirit of mutuality, exchange and long-term partnerships.
"In particular we are developing a wide range of activities across Canada, USA, India, Argentina and Australia, to engage new audiences with fresh perspectives on the work of Dylan Thomas and on contemporary Wales."
Starless and Bible Black is being launched by First Minister Carwyn Jones.
He said: "I'm delighted that the Welsh government and the British Council have worked together to deliver the Starless and Bible Black programme which shows that the celebration of all that is Dylan Thomas is not confined to Wales.
"We look forward to the celebrations and events taking place in London, across the UK and internationally."