A&E departments in north Wales under review, minister confirms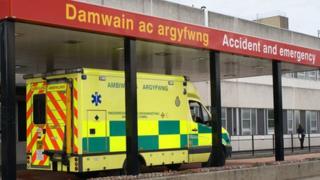 Plans to change the way the A&E departments operate at north Wales' three general hospitals is under review, BBC Wales has learned.
Health Minister Mark Drakeford has confirmed A&E services at Ysbyty Gwynedd in Bangor, Glan Clwyd Hospital at Bodelwyddan and Wrexham Maelor were being examined.
The health service was constantly changing, he said.
Betsi Cadwaladr University Health Board said no decision had been made.
The health minister confirmed the moves in an interview with BBC Radio Cymru's Manylu programme.
"We are looking to see where we can improve things now, or in the future," said Mr Drakeford.
"The important thing is that the system works together so that the people of Wales receive the treatment they need, where they need it," he added.
'Downgrade' mix-up
In that Welsh language interview, he initially referred to one of the options as "downgrading" one of the A&E departments.
However, his officials later clarified that the use of the term 'downgrading' was an error of translation on the part of the minister, who is not a first-language Welsh speaker.
"The minister used the word 'is-raddio' which he believed to mean 'realign' but understands with hindsight translates to 'downgrade'," the spokesman explained.
"The minister, who is not a first-language Welsh speaker, is clear to stress that 'downgrade' is not a word he would ever use in English to describe the necessary reconfiguration of A&E services anywhere.
"The aim of reconfiguration is to provide the best services in the best place, to give the best results for patients."
Critical report
It is not known exactly what changes would be made under plans to "realign" services in north Wales, but in Llanelli, Hywel Dda Health Board decided to make the A&E department in Prince Phillip Hospital a nurse-led unit supported by GPs.
Changes are also being considered at A&E departments in south Wales where the number of accident units could be reduced from eight to five.
The proposed changes come as health boards across the country were told by assembly members on Tuesday that they must learn lessons from failings at the Betsi Cadwaladr Health Board.
Some senior managers at Betsi Cadwaladr have already stepped down after an earlier critical report.
The assembly's public accounts committee said the new leadership now faced a "huge task".
North Wales AM Aled Roberts wants the health board to present any A&E restructuring plans as soon as possible.
'Network of services'
"As with any plan of that sort, that will prove to be very controversial," the Lib Dem AM said.
"I think that one lesson that has been learnt, hopefully, is that the health board makes some sort of suggestion soon and there is enough opportunity for people to understand exactly why they're bringing these plans forward."
Conservative Shadow Health Minister Darren Millar said: "Downgrading A&E services and forcing people to travel further in life or death situations can have a devastating impact on patient outcomes.
"Instead of talking about downgrading our hospitals, Labour ministers should honour their pre-election promises to the people of north Wales and safeguard hospital services in the region."
'Specialist care'
BBC Radio Cymru has been told previous changes to the health care system in north Wales had been criticised for a lack of public consultation.
The Betsi Cadwaladr health board said no decision had been made about changes to the three emergency departments in north Wales.
"There is evidence that consolidating certain services into centres of excellence can provide better outcomes for patients," the board said in a statement.
"Increasingly, the three hospitals are working together as a network of services.
"People will still be able to go to their nearest general hospital in an emergency, even if they are subsequently transferred elsewhere for specialist care."
Status quo
Geoff Ryall-Harvey, chief officer of the patient watchdog North Wales Community Health Council, said its members had not been told of any plans to alter services at any of the three A&E departments.
"I think the 70 members of the community health council would be very, very concerned if this was to happen," he said.
"There would also have to be a public consultation before any change of this sort, and we would be involved in that," he added.
Meanwhile, the vice-president of the Royal College of Physicians in Wales, Dr Alan Rees, said health boards across the country were being forced to look again at their services.
Dr Rees added that the status quo was no longer possible.
"That would then beg the question what happens to the hospitals which lose their A&E, and there would have to be major reorganisation in those hospitals," he said.
Manylu will be broadcast on BBC Radio Cymru at 14:04 GMT on Wednesday, 11 December, and will then be available on BBC iPlayer