CCTV cameras to protect Rhyl flood victims' homes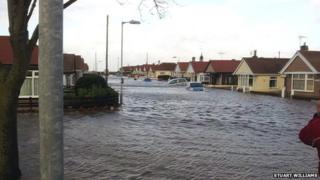 Police are installing temporary CCTV cameras to improve security at homes flooded in Rhyl when an "unprecedented" storm surge hit the resort last week.
About 130 properties were damaged and 54 people have since been rehoused, said Denbighshire council.
It has pledged to continue to support people as the clean-up continues.
Meanwhile, train services have resumed on the north Wales coast after repairs to a sea wall which collapsed onto the line at Mostyn, Flintshire.
The storm last Thursday caused major disruption with roads closed, schools shut and trains stopped in parts of north Wales.
Hundreds of people were forced to leave their homes as high tides and gale force winds battered the region.
In Rhyl, evacuees were cared for at the town's leisure centre, and 400 properties were without power.
North Wales Police carried out extra patrols around properties affected by flooding to allay security fears.
Now, police say they will install cameras at homes hit by the flooding.
District inspector Jason Devonport said: "High visibility patrols are continuing during the day and night in the areas affected by flooding in Rhyl.
"In addition, police are continuing to work with Denbighshire County Council and a mobile CCTV unit is in place in the area.
"Arrangements are in hand for further CCTV camera coverage to be installed this week."
Denbighshire council has already warned people to be wary of rogue traders offering services in the wake of the destruction.
It said that as part of its contribution to the clean-up operation, two teams were out over the weekend power washing driveways and paths leading up to the front and rear doors of properties.
Every day this week a refuse lorry is being parked in the area for householders to dispose of sodden items that are not white goods.
The council said a team of environmental services staff would be available from 0800 to 1600 GMT until further notice to help remove damaged items placed outside, while a skip would be available for the disposal of white goods.
The local authority said it would look at the lessons to be learned from the flood.
Councillor David Smith, cabinet member for environment, said: "With arrangements to care for people affected by the flood well in hand, our attention is now turning to understanding why it happened.
"We are in discussion with Natural Resources Wales and the Welsh government about the appropriate investigation arrangements which will allow us to get to the bottom of the important questions of what happened, how likely it is to happen again and what may need to be done to improve flood risk management defences in the future as a result.
"The storm surge was unprecedented, and so were the associated volumes of sea water that the flood defences had to cope with.
"This is likely to be a factor in the investigation, but it is too early to jump to any conclusions".