Rhyl flood victims in rogue trader warning from council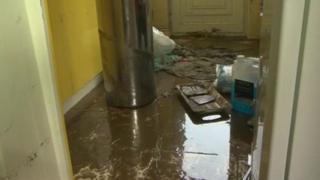 Flood victims in Rhyl whose homes were damaged by sea water caused by a storm surge have been warned about rogue traders looking to cash in.
More than 400 residents were forced to leave their homes on Thursday with many staying in a holiday camp and hotels.
Denbighshire council said previous floods around the UK had attracted doorstep fraudsters offering services.
It warned of poor quality work, cash deposits disappearing, overcharging, and charging for work not done.
A range of flood recovery services are offered and other assistance including tree chopping, garden clearance, guttering, driveway cleaning and roof cleaning.
"We are concerned that unscrupulous traders may try and take advantage of the victims of the recent flooding in Denbighshire," said Emlyn Jones, public protection manager at the council.
"We want to remind people to be careful about who they employ for their flood repairs.
"This is an upsetting time for all those who have suffered damage to their homes, and we don't want anyone to be taken advantage of whilst in this vulnerable state."
Thursday's storm caused major disruption with roads closed, schools shut and trains stopped in parts of north Wales.
Hundreds of people were forced to leave their homes as high tides and gale force winds battered the region.
In Rhyl, evacuees were cared for at the town's leisure centre, and 400 properties were without power.
Many were ferried to safety by the RNLI and emergency services.
Relief fund
Denbighshire council is considering whether more investment is needed in the area to prevent the flooding from happening again.
Meanwhile a relief fund is being set up to help those who have been affected by the flooding.
"We've been inundated with with donations of clothes and food from the general public," said the mayor of Rhyl, Andy Rutherford.
"Supermarkets have been supplying food to those affected and a clothes store has supplied things like socks and underwear.
"People have been asking us where they can donate money so we're going to set up a mayor's relief fund to help those affected by this.
"But for now we need to get people settled and back in their homes as quickly as possible then we can ask questions about how or why this happened."
Mr Rutherford said the worst-hit area was east Rhyl and the Ty Newydd ward which is home to many vulnerable and elderly people. The area was previously hit by flooding 20 years ago.
An information centre at the community fire station will remain open over the weekend giving advice on housing and welfare issues and volunteers from the Red Cross will also be available.
North Wales Police said extra patrols and mobile CCTV cameras would remain in force to police properties affected by flooding while the clean-up continued.
Rail services will be affected into next week after a section of track along the Dee estuary at Mostyn, Flintshire, was blocked when more than 200m of sea wall collapsed onto the line.
Network Rail said the line between Chester and Rhyl would be closed until Tuesday because of the damage.
Hourly services each way will run between Rhyl and Holyhead in both directions and buses will operate at the other end.
The line between Llandudno Junction and Llanrwst has also been significantly affected by the tidal surge and it is unlikely to reopen until Thursday or Friday next week.