Rhyl flood relief fund set up for hundreds of victims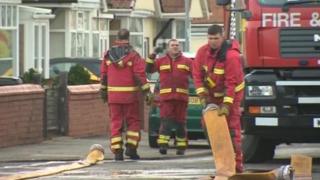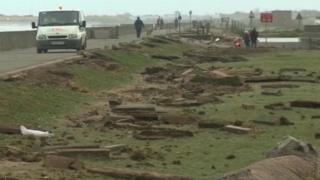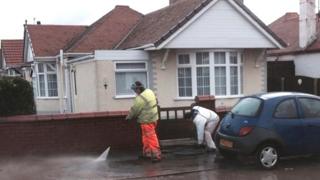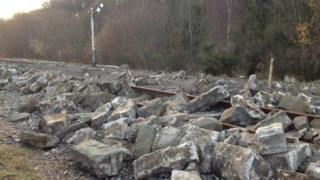 A relief fund is being set up to help the hundreds of people in Rhyl whose homes were flooded with sea water caused by a storm surge.
More than 400 residents were forced to leave their homes on Thursday with many looked after at a holiday camp.
Some have been allowed to return home to assess the damage and make insurance claims while others are still waiting.
ScottishPower has been working to restore supplies to 350 properties while train services remain disrupted.
"We've been inundated with with donations of clothes and food from the general public," said the mayor of Rhyl, Andy Rutherford.
"Supermarkets have been supplying food to those affected and a clothes store has supplied things like socks and underwear.
"People have been asking us where they can donate money so we're going to set up a mayor's relief fund to help those affected by this.
"But for now we need to get people settled and back in their homes as quickly as possible then we can ask questions about how or why this happened."
Thursday's storm and high tides caused flooding along the north Wales coast, while other parts of Britain were affected on Friday.
Mr Rutherford said the worst-hit area was east Rhyl and the Ty Newydd ward which is home to many vulnerable and elderly people. The area was previously hit by flooding 20 years ago.
'Dread'
Resident William Clarkson has been allowed to return home but his property has no power, while Phyllis Hogan has been staying at a caravan park.
She said: "My son is dealing with the insurance company and putting in the claim for me. Hopefully that will be done soon.
"I just dread going back in but I've been told we will have someone going back in our houses with us which would be a great help."
Another resident, Hazel Scott, who is also at the caravan park added: "It makes me feel sick with worry.
"I don't know what's going to happen. I don't know what state the house is in."
An information centre at the community fire station will remain open over the weekend giving advice on housing and welfare issues and volunteers from the Red Cross will also be available.
North Wales Police says extra patrols and mobile CCTV cameras will remain in force to police properties affected by flooding while the clean-up continues.
Denbighshire council is considering whether more investment is needed in the area to prevent the flooding from happening again.
Natural Resources Minister Alun Davies, who visited the worst-hit areas on Friday, praised the work of the emergency services and the council.
"My heart goes out to the people who have been affected by this," he said.
"We need to understand why the sea defences were overwhelmed yesterday - the primary defences were overwhelmed and secondary defences breached.
Train disruption
"We need to understand why that happened as when we make further investments in flood defences here or anywhere else, we can make the sort of investments that make people safe."
Meanwhile, rail services will be affected into next week after a section of track along the Dee estuary at Mostyn, Flintshire, is blocked after more than 200m of sea wall collapsed onto the line.
Network Rail says the line between Chester and Rhyl will be closed until Tuesday because of the damage.
Hourly services each way will run between Rhyl and Holyhead in both directions and buses will operate at the other end.
The line between Llandudno Junction and Llanrwst has also been significantly affected by the tidal surge and it is unlikely to reopen until Thursday or Friday next week.