Nelson Mandela: Emma Williams' Cardiff visit memory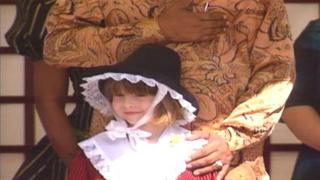 Emma Williams remembers having the best seat in the house during Nelson Mandela's 1998 visit to Cardiff - sitting on his knee.
The move by the six-year-old, dressed in traditional Welsh costume, caused consternation among the assembled dignitaries.
But the then South African president insisted Emma, granddaughter of Cardiff Mayor Marian Drake, be allowed to stay.
Ms Williams, now 21, said: "It's one of my most vivid memories."
She caught the attention of the cameras when she climbed on to the VIP guest's lap during the ceremony to award him the Freedom of Cardiff.
Minutes earlier, the former Creigiau Primary School pupil had welcomed the Nobel Prize winner to the city with a bouquet of flowers.
Mr Mandela bent down to talk to her during the greeting and the pair met up again on the stage.
After the two national anthems - that of Wales and South Africa - the schoolgirl sat with the honoured guest's lap throughout the speeches.
Mr Mandela was presented with his scroll by Ms Williams' grandmother.
Speaking about her experience on that June day in the wake of Nelson Mandela's death, Ms Williams told BBC Wales: "After the day itself everybody was asking about him - there was a lot of fuss.
"People were asking what kind of a man he was, and I started to realise that he was an important person.
"There's no doubt, it was one of the most important days of my childhood."